UPDATE: 9-Year-Old Maid Bathed with Hot Water Adopted By Lagos State Government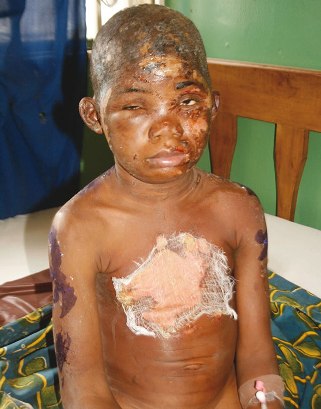 Precious Chinwedu, the nine-year-old housemaid tortured and scalded by her boss for allegedly stealing crayfish (read here) is now in the Lagos State Government's custody.
Punch reports the Office of the Public Defender has moved the primary three pupil, who hails from Orlu, Imo State, from Rem-Yems Hospital in the Agbado area of Lagos, where she had been on admission since December 28, 2015.
Confirming this, the Director OPD, Mrs. Omotola Rotimi, said, "The attention of the governor and the Attorney General was drawn to the plight of Precious Chinwedu, whose boss poured hot water on. We were instructed to take over the matter and the girl has been taken from the hospital with the help of the police. She is now in our protective custody."
Rotimi added that OPD would provide a legal representative for the victim for the prosecution of the case.
READ ALSO: See What A 'Madam' Allegedly Did To Her Househelp
"Henceforth, our legal representative will appear in court on behalf of the victim and we will ensure that the case is diligently prosecuted to get justice for her," she added.
Chinwedu's boss, Ifeoma Mbakwe, who has been arraigned in court, had carried out the brutal assault on December 27, 2015, and reportedly forced her to sleep in pains that day before taking her to the hospital the following morning.
Recounting her ordeal, Chinwedu previously said,
"She (Mbakwe) said I should go and bring crayfish, but I told her I did not see it. She said I ate it. She used something we used to grind pepper to hit my head. She bit me in the back and poured hot water on me. I complained that my body was paining me. But she told me to go and sleep like that.

She does not give me food regularly. There is no food for me in the afternoon when I come back from the school. Sometimes, she would not give me food in the evening. She always beats me. I want to go back to my parents."