Mother Cries Out for Justice as 2-Year-Old Son Dies Over Doctor's Alleged Incompetence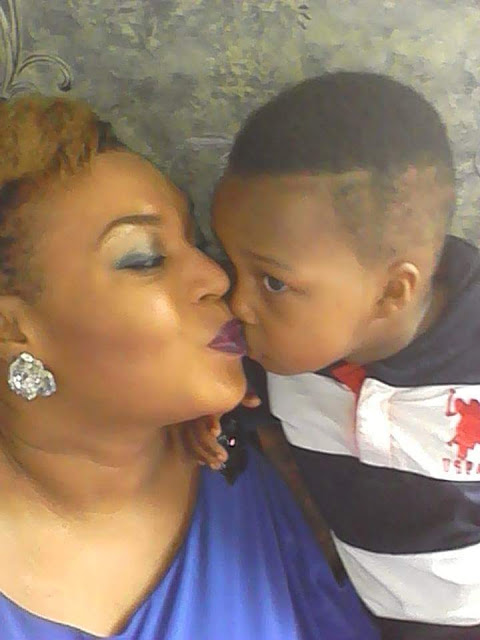 Shawn a sweet 2 year-old boy was full of life and loved his mother so much. He was always quick to tell anyone willing to listen how beautiful his mother is. 
The sad events that took his would both sadden and enrage you.
Shawn's mum, Lillian Obiageli Essien, wrote to  SDK,
'Good Day… I decided to bring my story to Stella's blog so that Nigerians can join me and my family in the quest to get justice for the death of our beloved son Shawn, from a certain Dr Vitalis the Chief Medical Director and owner of DE VITAL CARE HOSPITAL,Babalola bus stop in Ilogbo, Ojo local govt area of Lagos State.


On the 9th of December 2015,I took my 2year 5months old son to the above named hospital for treatment. My child had been restless all night. He had practically hallucinated all night and had woken up weak and with a bit of yellowness in his eyes.


We hurriedly left the house very early in the morning and got to the hospital a few minutes past 7am. They inserted a canula,took his blood and put him on iv fluid Immediately the blood had been taken. I asked the Dr why the iv was given and what drugs were being injected into the iv,since the results of the tests weren't out yet. And my son wasn't stooling or vomiting either. He murmured B-complex and walked away. 




About an hour later, the said doctor walks back into the room and I asked him if the test results were out and what the results of the tests were, he said he would be back and walked out again. He kept coming in and going back out of the room without telling me what the results were. This got me very worried. I started to feel something was horribly wrong with my son, and that was why he didn't want to tell me what the results were. The next time he came into the room my son was, I told him I demand to know what the test results were and he said it was acute malaria and his PCV was 18% and that he MIGHT be needing a blood transfusion.




A nurse came in and put in another IV fluid. I asked her what it was and she said saline. The doctor came in and met the nurse and I talking and explained that the saline will wash away the yellowness from my son's eyes. My son became very restless when the 2nd iv fluid got half way and it seemed like he was trying hard to breathe.i asked the 3 nurses that came into the room if they had a nebulizer but they all didn't seem to know what a nebulizer was. They said I shouldn't be scared that it's the malaria parasites that is making him so restless. 


They kept assuring me that by the next morning,he will be just fine.
Immediately the 2nd IV finished,the Dr came in and asked the nurse to insert a 3rd IV. By this time I noticed my son's belly seemed like it was filled with water and his arms and feet were double its size. I called the Dr and he came in and said I should stop worrying that as long as my son was passing out urine,he was OK. He kept assuring me my child will be just fine.


The 3rd IV finished and they put in a 4th. My son seemed to be finding it so hard to breathe. The Dr came in again and I asked him exactly what all the iv fluid was for. That my child wasn't stooling neither was he vomitting that I don't think he needs anymore IV fluid. I asked him if all the IV fluid wasn't diluting my son's 18% blood,since all the fluid is flowing through my son's veins . He retorted "Ahn Ahn! Are you a medical personnel!? The drip cannot dilute your son's blood!" 




He left the room immediately and less than a minute later a nurse came in and said the Dr asked her to take out the IV. My father in law was present in at least 14 hours out of the 16 hours my son spent in Dr Vitalis's hospital. They kept giving the both of us assurance that Shawn would be just fine and the fluid retention in his body and the restlessness was just a passing phase. That his body was only fighting the malaria parasites.




At about 10.33pm,the Dr came into the room and I said "Dr please help me. My baby isn't getting any better" and he replied "madam pray to God to help you!".




 He said he has decided to transfer my son and he wrote a referral letter for me to take my son to another hospital. My son had started gasping and his eyes seemed to have gone right into its sockets and looking even more yellow. The doctor's last sentence to me before I left DE Vital Care hospital was "This boy is a strong boy". 


We got into the isolo general hospital, at past 12midnight. The Dr on call seemed shocked after reading the referral letter. I remember him murmuring "what kind of stupid Dr administered this medication to a child".He immediately put my son on oxygen and my son passed away in my arms after about 2 minutes.

2 weeks later I got a call from a certain Dr Vitalis. He said he was the owner and medical director of the hospital where my son was treated. And that he was calling to apologize for the incompetence of his staff, which led to my son's demise. He asked if I could send my address, so that he can come and apologize face to face and pay condolence.




He came over a few days later, with a member of his staff called Jerry. According to Dr Vitalis, on the day I brought my son to his hospital, he had a court case in Ijebu-Ode and left a certain doctor in charge. The doctor in charge had to go for Shiloh 2015(winners chapel church convention/crusade),and invited a Dr friend of his, to come and take his place in Dr Vitalis's hospital. 




According to Dr vitalis,the Dr whom treated my son wasn't a doctor in his hospital. He was just a friend to the doctor that was meant to be on call. Dr vitalis went ahead to explain to us (my mother ,my husband and I) how a nurse had called him to explain the situation at the hospital and how it was him whom ordered that my son should be transferred to another hospital,because he didn't want my son to pass away in his hospital. According to him, with the explanations the nurse who called him gave, he knew his staff had 'messed' up, and it was 'too late'. 




Dr Vitalis promised to bring the Dr who attended to my son to come and 'apologize' for his mistakes. My husband asked him what the doctor's name was and he claimed he didn't know. That when he came back from ijebu-ode and heard the entire story of what happened he 'beat the hell out' of the doctor and asked him never to come close to his hospital. 




He never brought the Dr to apologize.




This Dr Vitalis was unwilling to give out his surname he insisted he will like to be called just 'Dr vitalis' .He point blank refused to disclose his surname but I did my own little investigation and found him on facebook as Vitalis Nwikwu Mezie. I also found a certain news on the internet regarding medical malpractice and a certain Dr Vitalis. I do not know if it's the same Dr Vitalis that is being referred to,however I have posted the link below 

http://thenationonlineng.net/police-arrest-two-fake-medical-doctors

/. 


This Dr vitalis Mezie does not 'appear' as a medical doctor. I understand that doctors do not have a certain 'look', but his mannerisms and spoken words are very dodgy and suspicious . I have strong doubts that Dr Vitalis is a licensed medical Dr and his hospital is registered. I also have very strong doubts that the Dr whom treated my son is a licensed medical Dr and Dr Vitalis's claims that he doesn't know the name of the Dr or how to reach him, further fuels my suspicions. It's quite obvious he wants to ensure the Dr stays 'invisible and anonymous'. 




I will like the medical association, the Nigerian police and the general public to ensure that justice is served and to please help investigate this man and his hospital,to avoid more lives being lost to either carelessness ,negligence or a forged medical license/certificate,and also to avoid any human being passing through the emotional pain and trauma I am currently passing through due to the death of my only son.

Stella,i just wanted you to know this, cos I know how insensitive some people can be. I know some people might think that I am seeking for attention or trying to get some sort of compensation for what happened to me.

Nothing can replace my son. Absolutely  NOTHING! No one and nothing can soothe this pain or replace my son. it's just impossible! Even if I bear 5 more children, they can NEVER  take his place. But this is what can happen, if we join hands together and make sure  that the doctor that treated my son is brought to book, and hopefully other quacks too will look for other jobs to do and cease from pretending to be medical doctors, then nobody would have to go through this pain. It could happen anybody. but it  just has to stop. it might not be immediate but a stitch in time saves lives.

Nobody deserves to go through this. I'm doing this for everyone that has ever died as a result of medical malpractice/negligence . I'm NOT doing  this for a kobo, to be popular or to tarnish any body's image.

Thank you
Lillian Obiageli Essien
See photo of Dr. Vitalis below…