Heartbreaking: Baby Aisha Born With Heart Outside Her Body Dies Hours Before Surgery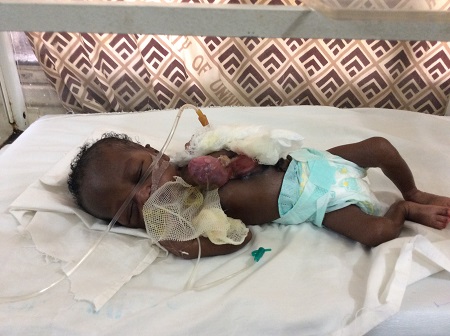 The baby girl who was born with her heart right outside her chest has reportedly passed on few hours before the commencement of surgery.
According to The Nation, Aisha, who was born with an open heart died at the Maiduguri Teaching Hospital, in the early hours of today, 14th of June, 2016.
Just yesterday, N2.5 million and N3m was donated by Yobe State Government and the First Lady Aisha Buhari respectively for Aisha to be flown to Enugu to undergo surgery in a Special Centre which has a partnership with UK specialists already in the country.
The Uncle of the Baby, Arama Mustapha who broke the news of the death said that he is heart broken over the death of the child.
Arama said: "I have just received a call from the mother of the child a few minutes ago that the baby is dead. She called me around 3.06am and broke the news to me. I am really heart broken over the turn of event but my prayer is for Allah to grant her eternal rest."
The Chairman Medical Advisory Council (CMAC) UMTH Dr. Mohammed Bashir also confirmed the news.
"It is very sad that the baby passed away early hours of Tuesday. It's very sad that she could not make it," the CMAC said.
Pius Simon, the Consultant Neonatologist who was managing the baby ahead of her operation also confirmed the development, describing it as "a sad development".
He informed that the baby died of infection because the heart has overstayed outside the chest wall for too long.