Unbelievable! Lagos School Where Pupils Smell Others' Buttocks as Punishment Exposed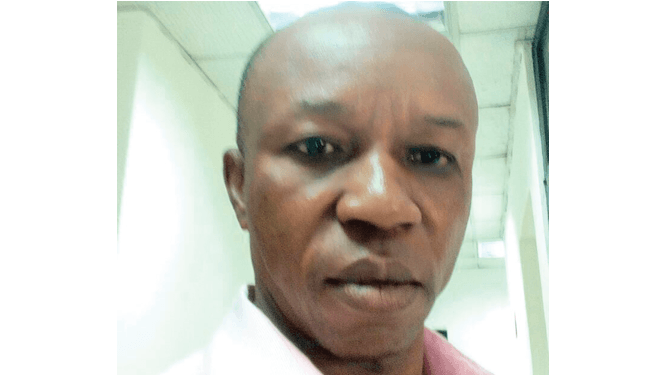 This bizarre news was revealed by an angry parent, Saviour Iche, who allegedly narrated what happened in his children's school.
Iche, pictured above, who is the National President of Citizens Protection and Enlightenment Initiative, a human rights organisation, revealed the shocking news.
He stated that there is a school in Ijegun, Lagos in which students are given punishment of smelling other students' buttocks when they commit an offence, adding that he was forced to speak up after his children were subjected to such a demeaning act.
He urged the Lagos State Government to investigate Premier Fountain College, located at Ijegun Lagos. His words: "A teacher in that school once flogged my 7-year-old son and inflicted bruises on him, The New Telegraph reports.
"Anytime I drew the attention of the management to the torture, they would beg. Torture and brutality of children are going on in the school; other students have complained. A particular teacher forced pupils to smell one another's buttocks. I want the teacher responsible for brutalising my son to be investigated and made to face the wrath of the law."
He added: "It happened last year. My kid was three-year-plus. One of the kids in the class farted. The teacher ordered them to start smelling one another's buttocks, to know who farted. My daughter refused. She was punished."
The report further revealed that whenever he goes to the school to confront the school over the insensitive punishment meted out to pupils, the school management would plead with him.
He, however, now finally decided to jettison their pleas, after he returned home one fateful day and saw cane welts over the body of his 11-year-old son, a Junior Secondary School 1 student.
He was infuriated after he asked his son who beat him and learned that it was a teacher in the school.
He claimed that if not for the quick medical attention given by his wife, the boy would probably have died. The management of Premier Fountain College, however, denied the allegations.
The school insisted that Iche's son was disciplined because he and his sister teamed up to fight another student. Iche, who had already lodged a complaint at the Isheri Ijegun Police Station, Lagos State, said he decided to report the matter because this was the second time he would be seeing signs of torture on his kid's bodies.
He said: "My son who is a Junior Secondary School 1 student of the school, came home on Tuesday with bruises all over his body.
"I asked him about the bruises. He said one of his teachers flogged and inflicted the injury on him. After flogging him, the teacher dared him to go and report to his father.
"I tried to find out from my son what led to such flogging. He told me that he and other students were rehearsing their end of year songs when he started drumming. A senior student walked over and hit him for drumming.
"My son ran out of the school, but the senior pursued him and further punched his stomach. He also hit my son close to his eye. While the senior was beating my son, my daughter, who is also a student in the school, came to her brother's defence. This led to a fight between my daughter and the senior. When the teacher intervened and stopped the fight, he went on to flog the three of them.
"The teacher refused to give my son a fair hearing. My son came home crying and his mother had to give him First Aid." 
However, the proprietor of the school, Femi Martins denied that Iche's son was brutalised. He also denied that pupils were ever compelled to smell one another's buttocks after one of them farts. He said any teacher who does that would be sacked.
Narrating what he said happened, Martins said that the teacher only disciplined the boy for fighting.  Police is investigating the matter.
Photo credit: The New Telegraph