See Why This Married Dad of Two Took to Robbery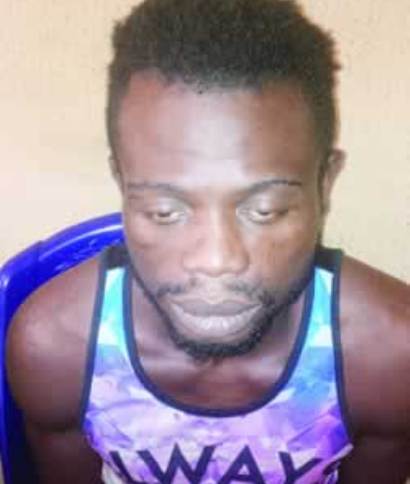 A robbery suspect identified as Mojeed Ogooluwa has claimed he took to robbery two months after losing his job out of frustration to pay his children's school fees. The 34-year-old married dad of two was formerly the Financial Secretary of the Tricycle Operators Association in the Ketu area of Lagos.
According to Punch, the embattled dad joined a robbery gang notorious for robbing people of their cars and other possessions. His first robbery operation with them however turned out to be the beginning to the end.
They had stormed the house of a civil servant identified as Mrs. Iyiola Shola, robbing of her car, money, jewellery, mobile phone and laptop. Months later, Ogooluwa and one of his gang members, Toheeb Waheed, were arrested by IRT operatives in their hideout in Ketu Tipper Garage in Lagos.
READ ALSO: See This Graduate Dad's Excuse For Taking to Armed Robbery
Confessing to the crime, the dad of two said,
"I was an executive member of the Tricycle Operators Association in the Ikosi Isheri Unit, Ketu, Lagos and I held the post of a financial secretary. We are affiliated to the National Union of Road Transport workers and my job was to monitor the movement of tricycles around Ketu and to make sure there was free flow of traffic.

I used to earn N5,000 weekly and by the end of the month, I earned another N20,000. But in January, 2016, I was relieved of the job and when it was time for me to pay my children's school fees, I could not pay again. I became frustrated.

I met one Agu and Mutiu at a smoking joint in the Ketu area of Lagos and they started talking about robbing cars from a house. I told them that I was a good driver and would work for them if they would accept me. We exchanged phone numbers and agreed to meet by night.

We met at Ketu Bus stop that night and I saw four boys — Agu, Lekan Tesax, Yahoo Foreign and Mutiu. They told me that the house where they wanted to snatch the car from was very close by and we went by foot. I didn't know the name of the street; it was Agu and Mutiu who took us to the house.

Three of us had guns, but I didn't have any since I was new in the gang. Time was around 1am when we invaded the house through the fence and broke the door, two of us who had guns entered into the house while I waited outside.

After a while, they came out, having collected the key of a Toyota Camry from the lady resident and we all drove out in it. On our way, we intercepted another car, a Toyota Corolla, on CMD Road, Shangisha area and we snatched it from its owner. From that point, we proceeded onto the Lagos-Ibadan Expressway and we were heading towards Ilorin, Kwara State to sell the vehicles to our buyers there.

On our way, we stopped to buy something to eat when the police attacked us. They shot at us and we all ran into the bush, but the bullet hit Mutiu on his abdomen and we abandoned him. The police followed us. That was when I was arrested."
Photo credit: Punch