Inspiring! See How Once Homeless Teenager Made The Best Of His Situation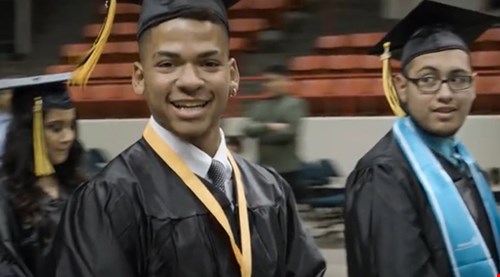 Liyjon DeSilva, a 20-year-old American student who was homeless after his mother's death, has graduated top of his high school class and won a full college scholarship, Daily Mail reports.
DeSilva's mother died when he was just five years old, and after years of living with different relatives, he found himself homeless as a teenager, sleeping in parks and on buses.
The 20-year-old said, "It was either be that or a low life. I could have thrown everything away. I have a chance, why not just keep going?"
He continued, "I wanted clothes. I wanted to be able to live like a normal kid, you know. I wanted to eat like a normal kid. I slept at parks. I love sleeping in parking lots because I could see the stars, the sky. There was one where I could see the horizon of the city. I slept at pools. Those were cool."
"I don't like to refer to it as bad or that it was terrible because I learned a lot. I learned a lot of survival skills. Life became a bit easier."
Despite being homeless for three years, Liyjon attended school regularly and topped his class, sources say. Later, a staff from his high school, Margaret Long Wisdom High School, Texas, USA, observed that he was homeless and decided to assist the young man.
Jonathan N. Trinh, principal of the high school, was shocked to discover that one of his top students was homeless. He maintained that in his 23-year career, DeSilva stands out as naturally gifted and among the top 5% of students.
According to reports, Liyjon graduated top of his class this year and has a full scholarship to Carleton College in Minnesota, USA.
Photo credit: Houston ISD