How EFFC Arrested Ex Minister's Wife, Morufat Obanikoro, For Alleged Fraud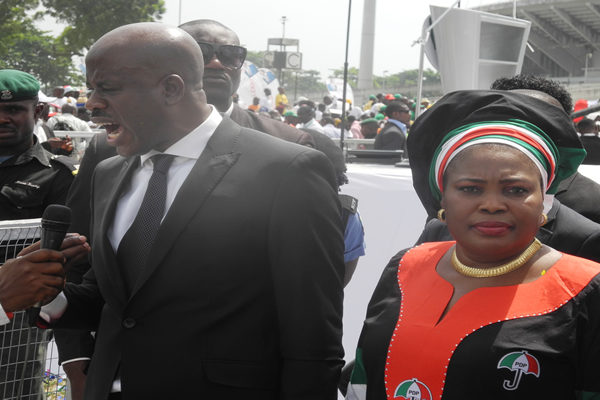 Yesterday, 14th of July, operatives of the Department of State Service, DSS arrested the wife of a former minister, Senator Musiliu Obanikoro, over an alleged laundering of N4.7 billion diverted from the Office of the National Security Adviser in 2014.
It was learnt that Alhaja Moroophat Onikoro, who has been in the United States of America since June 2015, was arrested in front of her husband's house located on Layi Ajayi-Bembe Street, Parkview Estate, Ikoyi, Lagos on Thursday, Punch gathers.
A reliable source said: "We arrested Alhaja Onikoro this morning. Although she bears Onikoro, she is the wife of Obanikoro. She was arrested with some vital documents. She is currently in our office in Shangisha, Lagos, and will later be transferred to the Economic and Financial Crimes Commission, EFCC for more investigation."
It was also revealed that after interrogation at the EFCC office in Ikoyi, Lagos yesterday, she was allowed to go home on condition that she would return on today, 15th of July.
A source in the EFCC said: "We released her after interrogation. The woman cooperated fully with us and we allowed her to go because we don't hold people hostage. We asked her questions and she answered respectfully."
Recall that last month, EFCC had raided the Obanikoro's house and made away with some documents said to have linked Obanikoro to the N4.7bn allegedly siphoned from the Office of the National Security Adviser and also sealed a house belonging to Obanikoro's two sons, Babajide and Gbolahan, in Banana Island.
During the search, Mrs. Onikoro, who was in the house and alleged that her rights were abused and had even sued the EFCC for N100m.
"When she sued the EFCC, she thought that would be the end of the matter. Unknown to her, we kept surveillance on the house and swiftly arrested her with the evidence we needed," a source said.
According to reports revealed during EFCC investigations, N4.7bn was paid into a bank account of Sylvan McNamara, a company in which Obanikoro's two sons are said to be directors.
Obanikoro, who has been in the United States with his two sons for over 15 months, denied the allegations, insisting that the EFCC was concocting evidence against him and his family.
He had also dared the commission to extradite him if it had evidence against him.
Meanwhile, EFCC also said it was in possession of a CCTV footage which captured Obanikoro and three others loading the billions of naira unto a plane at the Lagos airport in 2014.
"Let Obanikoro keep making noise in the US instead of him to be a man and come and defend himself like others. He has finished his academic programme in the US since April but has refused to return to Nigeria because he knows he is guilty.
"Obanikoro has put his family in trouble by using his sons to launder money. In this age of BVN (Bank Verification Number), it is difficult to get away with bank fraud," a reliable source said.