Man Goes On Honeymoon Alone After Wife Loses Her Passport 2 Days Before Trip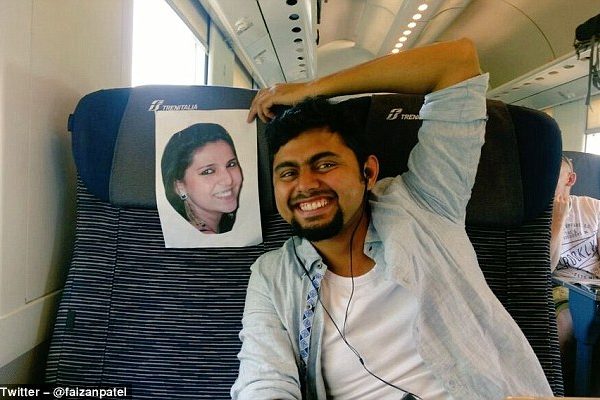 A newly married Indian couple Faizan Patel and his wife Sana were preparing to leave for their two-week honeymoon trip to Italy earlier this month when Sana discovered her travel documents were missing.
So poor Faizan was forced to start the first leg of their holiday on his own and kept his wife with him, kind of.
On Monday Patel, a photographer tweeted a photo of himself, traveling with Sana's picture placed over an empty seat and captioned the image: 'This is how I am travelling with my wife as of now', and copied in the Indian Minister of External Affairs Sushma Swaraj.

Fortunately for the hubby, Swaraj caught sight of the tweet and tweeted back to him to have his wife contact her; a little later Swaraj said a duplicate passport would be issued as soon as possible. Patel's wife just might make it to Italy after all.
It was initially thought that Sana wouldn't manage to get a new passport in time, but the couple are now hoping that she could arrive in Italy as soon as this weekend.
She has been in talks with the Indian Visa Application Centre, who are hoping to secure a new visa for her to visit the country over the next two days.
Faizan told CNN: 'This trip was entirely planned by her, I wish to see her next to me soon.'
Photo credit: Twitter