Housemaid Disappears With Employer's Two Children, Uses Them To Collect Alms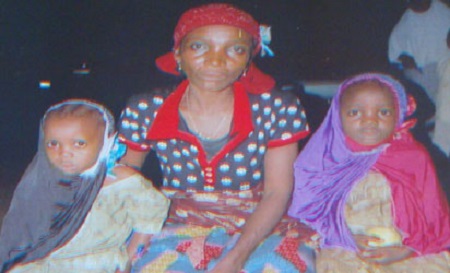 A housemaid simply identified as Asmau allegedly stole her employer's two children in Ogere, Ogun State and took them to Ikorodu in Lagos State, where she used them to beg for alms on the streets.
The middle-aged woman reportedly served as a housemaid for four months before kidnapping the children, Amina, 6 and Rukayya, 7.
Vanguard reports that the mother of the children simply identified as Hawau, said Asmau had been living with her and assisting her with some domestic chores while being paid N400 or N500 daily.
According to her, during the Sallah holidays in July, she had planned to send her daughters to their grandparents in Lagos for holiday and had invited her brother to come down to Ogun State to take her children to Lagos.
She continued:
"My brother came to pick them (Amina and Rukayya) but did not meet me and my children at home on Sallah day because we had gone to the Eid ground to pray. He did not wait for me as he left for Lagos. When my children knew that he had come and gone they started crying.

Asmau used the opportunity and told me she was going to Lagos that day and that she will help me to take them to their grandparents, so, I agreed and asked the children to go with her. After two days, I found out that the children were not at their grandparents' house, I called the woman but her number was not connecting. I checked her at her house, I did not find her and my children.

I started to go round to check out till I spent all what I had and yet I did not find them. I then reported to the Sarkin Hausawa of Ogere Alhaji Abdullahi Saminaka, who organised a prayer and informed the people.

Luckily for me, a woman came to the palace and told the Sarkin that she saw Asmau with my children begging in Ikorodu in Lagos state. So, he (Sarkin) sent his men to go and bring them; one of them, called Ali told us that he found the children with the woman begging for alms in tattered  clothes.

We were also told that the woman removed their new sallah clothes and gave it to one woman, who was a food vendor, in exchange for food. The children told us that the woman used to beat them if they cried or refused to go and beg for alms. She told people, while they went begging for alms that she is their mother."
The housemaid has now been arrested.
Photo credit: Vanguard