'I got information on how to kill from Google' Student Who Stabbed Pregnant Girlfriend Reveals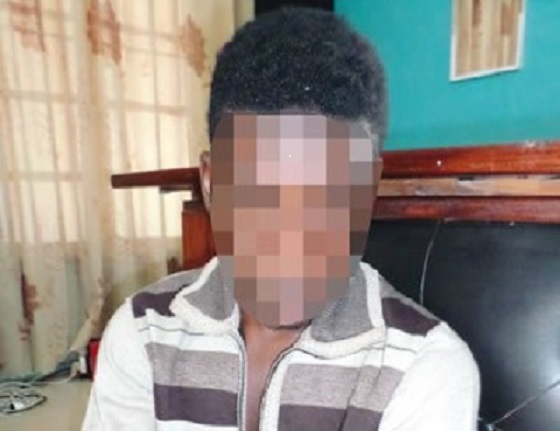 After all effort to convince his girlfriend to abort a pregnancy, a man has resulted to google to find information on how to solve his problem.
A 19-year-old undergraduate, simply identified as Ade, recently made wrong use of the application when he used Google to search on what he could to do to his girlfriend who refused to abort a two-month-old pregnancy she had for him.
After search, he finally got an answer. He allegedly picked a knife, went to his girlfriend's house and stabbed her twice on the stomach and also slashed her throat.
The suspect is currently in police custody at the State Criminal Investigation and Intelligence Department (SCIID), Oyo State Police Command, over an alleged murder attempt.
Tribune learnt that the 100 level student, allegedly committed the crime on Thursday, August 11, at the residence of his girlfriend's parents at Sango–Alaro area of Ibadan at about 2:30 p.m.
The girl was save by her neighbour who coincidentally is a policeman, Sergeant Ayeni Oluwafemi. If the girl's neighbour hadn't heard her cry and came to her rescue, she would have died in a pool of her own blood while her assailant would have escaped.
Rushing to the room where the cry came from, the policeman reportedly met the suspect, holding a knife and was about to walk out. He promptly pushed him back, handcuffed his hands and called for assistance to save the 19-year-old girl.
During an interview, Ade confessed that he acted the way he did because "my girlfriend got pregnant for me," adding that he got the clue on how to get rid of the unwanted pregnancy through the help of Google.
"I met my girlfriend about two months ago on Facebook. We had a mutual friend and I added her. She accepted my request and we got to know each other. I proposed a relationship to her and she accepted. We had sex only once on July 4. I did not protect myself.

"On August 10, she told me that she was pregnant. The next morning, on Thursday August 11, she called me that her parents wanted to see me. I went to her parents at Alaro area of Ibadan and they wanted to know what my intention was on the pregnancy. I suggested that she had an abortion but they said they could not abort for their daughter because it was against their belief. I told them that I would get back to them on Monday, August 15.
"I left for home confused, but on the way home, different thoughts went through my mind because I didn't want my parents to know. I didn't want to disappoint them. I was with my phone at home and I picked it and typed "What to do if my girlfriend does not want to have an abortion on Google". It brought out different options that I can deny, but didn't.
"Another option was to convince her to have an abortion, which did not work. There were also other options but the last one was that I could kill her. I chose that option because she was the only one who knew my house and I believed that if I killed her, no one would be able to trace my house and I would get away with my action.
"To kill, Google gave me an option to use poison, which I knew no pharmacy would sell to me. Other options were to use a gun or a knife. Knife was easy to get, so I went to the market same day to buy a knife and returned to her house. I did not meet her at home so I called her and waited for her. When she came in, I attacked her with the knife but she was resisting. I stabbed her on the right and left sides of her stomach and slashed her throat.
"Unfortunately for me, her screams got to a neighbour and he came in. Coincidentally, he is a policeman so he handcuffed me and I was arrested. It was the fear of disappointing my parents that made me take the action."
Meanwhile, the lady survived the attack and currently in the Intensive Care Unit of a hospital in the South West part of Nigeria where doctors had been battling to keep her alive.
Confirming the incident, the police image-maker in Oyo State, Adekunle Ajisebutu, a Superintendent of Police, said that the suspect would be arraigned in court after the conclusion of investigations.
Ask Google' is a common refrain when people need answers to issues they cannot solve ordinarily.
Photo credit: Tribune