See The Faces of Child Kidnappers And Traffickers Paraded By Benue State Police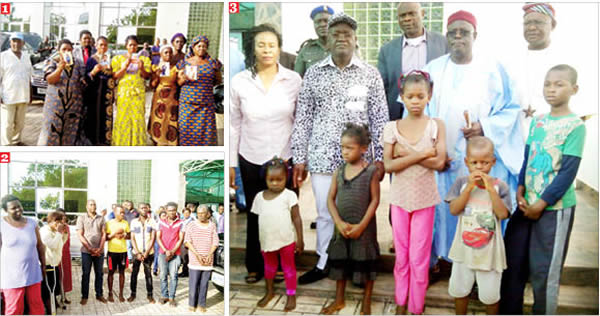 Yesterday, the Benue State Police Command in collaboration with the State Security Council paraded 11 kidnappers and child traffickers alleged to be specialists in stealing and selling children across the country.
According to Punch, the DSS also paraded the victims: Emmanuel Abedi, Favor Oleka, James Adanu and Joseph Aboje who had been in the custody of the kidnappers and traffickers for a while.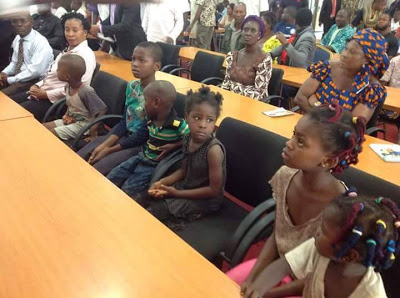 One of the kidnappers identified as Adejo Ogiri alias Okala, while speaking with journalists confirmed that he had kidnapped four children and handed them over to Ezekiel,  a bus driver from Imo State.
"Each time I kidnapped children from any part of the state, I usually took them to Ezekiel who in turn, would hand them over to his wife, Amarachi, who specialized in receiving stolen children for the purposes I don't know.
"I was paid N1m naira for kidnapping little Miracle Jacob. But it led to the bursting of the syndicate."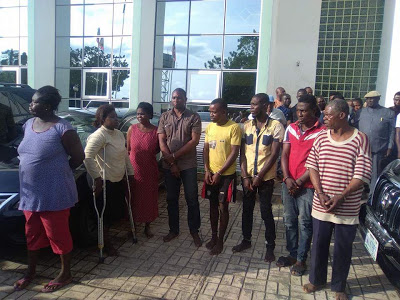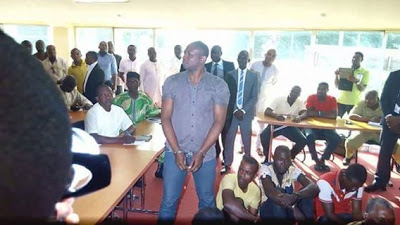 At the Benue People's House Makurdi, where the victims were paraded, Governor Samuel Ortom said Ogiri, alias Okala, was the kingpin.
Others paraded were, Affonne Nwokocha from Umuahia South Local Government Area of Abia State who facilitated the buying and selling of children.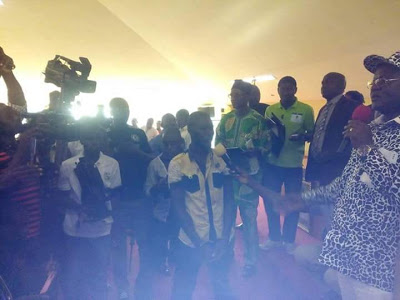 The governor also explained that the final payment of N700,000 made by one Augustine Basil for Jacob was deposited in Nwokocha's  Keystone Bank account No: 6006236465, adding that the suspect also confessed to have facilitated the adoption of a child for one Henry Ndukwe in 2013, for the sum of N500,000.
In addition, he said the State Security Council and the DSS were working with the Benue State office of the National Agency for the Prohibition of Trafficking in Persons to further investigate and prosecute the syndicate.