Inspiring! Meet Nigerian Woman Who Sponsored Her University Education By Selling 'Akamu'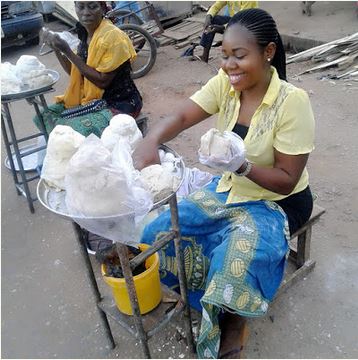 The story of this young Nigerian woman, Ebere Nwabuike, is inspiring several individuals who have given up on their dreams or are about to, owing to the current economic hardship, as well as those considering shortcuts.
Ebere shunned common shortcuts like prostitution and crime, and footed the financial demands of her university education and everyday life by selling local pap, commonly referred to as 'Akamu'.
According to a social media user, Onyinye Okoye, who shared her story with the above photo on Facebook, the young lady is a graduate of Agricultural Economics from University of Agriculture, Makurdi, Benue State, and was able to sponsor her university education from the proceeds she made from selling 'Akamu', a trade she inherited from her mother.
Ebere's story is currently being shared online to discourage giving up or engaging in prostitution and other vices because of the current economic hardship.
Photo credit: Facebook