Mark Zuckerberg And Wife Pledge $3bn To Help Scientists Wipe Out ALL Diseases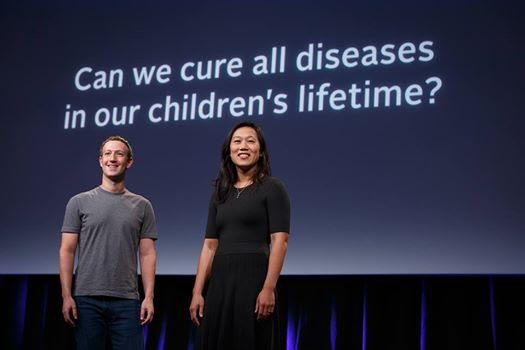 Billionaire Facebook CEO, Mark Zuckerberg is one with a heart of gold. He has also proved he has a goal that's even more ambitious than connecting the entire world to the Internet as he and his wife, Priscilla Chan, on Wednesday, pledged over $3 billion towards helping scientists find a way to cure ALL diseases in the world.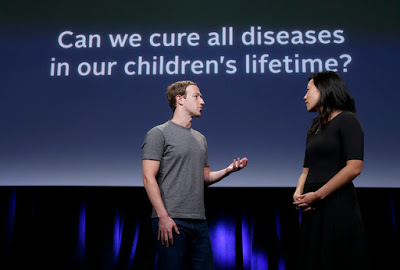 In a statement he released via his official Facebook page, he revealed:
"Priscilla and I just shared our next major focus for the Chan Zuckerberg Initiative. Can we help scientists to cure, prevent or manage all diseases within our children's lifetime? I'm optimistic we can. Medicine has only been a modern science for about a century, and we've made incredible progress so far.

Life expectancy has increased by 1/4 of a year per year since then, and if we only continue this trend, the average will reach 100 around the end of this century.

Today, just four kinds of diseases cause the majority of deaths. We can make progress on all of them with the right technology.
Throughout history, most scientific breakthroughs have been preceded by the invention of new tools to help us see problems in new ways — like the telescope, the microscope and DNA sequencing. It's not hard to imagine the modern tools required to accelerate breakthroughs in today's four major disease areas. So we're going to focus on bringing scientists and engineers together to build these new tools and technologies.

Today, we announced a few steps in this direction: Dr. Cori Bargmann, a world-renowned expert in neuroscience and genetics, is joining the Chan Zuckerberg Initiative to lead this initiative.

We are thrilled to welcome her. We are committing to invest $3 billion over the next decade in this initiative to help scientists cure diseases.

Our first project is creating the Bio-hub. We're investing $600 million in a new research hub to bring scientists and engineers together from Stanford, UCSF, Berkeley, and the world-class engineering team we're building at the Chan Zuckerberg Initiative, in order to build some of the new tools I mentioned above.
The science initiative is a long term effort. We plan to invest billions of dollars over decades. But it will take years for these tools to be developed and longer to put them into full use. This is hard and we need to be patient, but it's important.

This is about the future we want for our daughter and children everywhere. If there's a chance that we can help cure all diseases in our children's lifetime, then we will do our part.

Together, we have a real shot at leaving the world a better place for our children than we found it."
According to reports, Mark and Chan have spent the past two years speaking to scientists and other experts to plan the endeavor. The father of one emphasized 'that this isn't something where we just read a book and decided we're going to do.'
Chan's work as a pediatrician seems to be a big driver in the couple's decision to take up this latest cause.
The selfless couple hope that their effort will inspire other far-reaching efforts and collaboration in science, medicine and engineering, so that basic research is no longer relegated to the margins.
Photo credit: Facebook