New Reports Reveal What Could Have Led To Angelina Jolie Filing For Divorce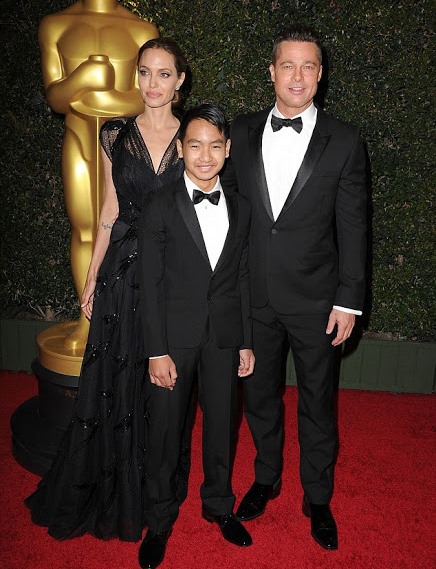 Following the trending divorce drama between famous estranged celebrity couple Brad Pitt and Angelina Jolie (read here), new reports allege that during an argument last week, Brad 'lunged' at his 15-year-old son, Maddox. This was on the family's flight home from France when Maddox tried to verbally defend his mother. According to insiders, this was what led to Angelina's decision to file for divorce.
According to TMZ;
The L.A. County Dept. of Children and Family Services launched an investigation after getting an anonymous tip that Brad allegedly attacked his eldest son on a trip back from France.

Here's what's alleged — Shortly after the plane took off, Brad and Angelina began arguing and Maddox jumped up to verbally defend his mom. We're told Brad then lunged at the boy and Angelina jumped in between them to block her husband. Brad connected in some fashion with his son.

Now here's what's in dispute:

Whether Brad and Angelina were arguing, or whether Maddox was acting up on the plane.

Whether Brad made contact with his son intentionally or inadvertently.

Whether Brad was drunk at the time. Although authorities were told Brad was drunk when the incident went down, we're told Angelina says he was sober at the time but got drunk later in the flight. Sources connected with Brad tell TMZ he was drunk at the time of the incident.

As earlier reported, Angelina wants sole physical custody of the kids. A source connected with Angelina says this is not about alcohol … she would never leave Brad if it was just a substance abuse problem. The source says this is all about protecting their children.

Brad has denied there was any abuse, but sources connected with him acknowledge there was an incident on the jet.

And our sources say Brad has never acted aggressively toward his kids in the past — other than verbally — and Angelina felt the incident on the plane was a deal breaker.
Photo credit: WireImages