'Brad isn't an aggressive man. Not at all' Brad Pitt's Ex-lover, Elizabeth, Defends Him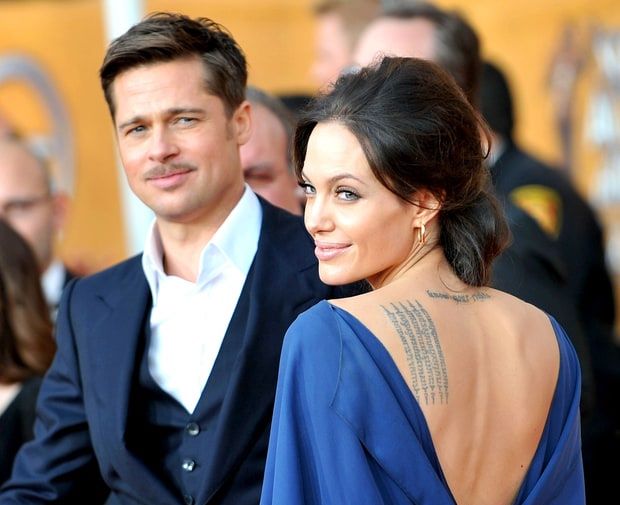 Following the trending divorce drama between Hollywood actor, Brad Pitt and his estranged actress wife, Angelina Jolie, an ex-girlfriend of Brad, Elizabeth Daily, has poured cold water over allegations that the 52-year-old superstar was got verbally and physically abuse with one of his six children, Maddox, after a heated row with his wife on a private jet (read here).

In an exclusive interview with DailyMail, 55-year-old Elizabeth called the Hollywood heartthrob a 'very calm' and 'gentle guy' who never once displayed any sign of having a fiery temper with her while they were together.
The pair met in 1989 on the Hollywood circuit and they remained close until 2001, where they were reunited at the premiere of The Mexican, in which he starred opposite Julia Roberts.
She believes that it's possible Angelina could have pushed Brad over the edge.
She said:
"Brad isn't an aggressive man. Not at all. I haven't been hanging out with him, and I don't know the circumstances, but I know Brad doesn't behave in that kind of manner.

He's very laid back, very earthy. He's the kind of guy that would pick up and leave and drive his car just to get out of the city. He was never someone that was super Hollywood, he was a very calm and gentle guy."
She continued:
"Brad and I were close friends for a long time, before he dated Juliette (Lewis). He was my friend, he was always sweet and was a very generous doll.

I haven't seen him or spoken to him since The Mexican premiere, because he doesn't really live here anymore.

He's in a whole other realm. Brad does a lot of Hollywood stuff, but he's not a Hollywood guy. From my experience with him, he was a very down to earth man.

I never experienced any sign of temper when I knew him. That's the sad thing. I'm sure more clarity will come out and I'm sure some of it well get sorted out.

Our generation of parenting isn't about physical abuse, so hopefully more will come out later that'll tell us what's going on."
While Elizabeth said she knew Brad smoked pot when she knew him, she speculates his actions could have been caused by Jolie pushing his buttons – not the drink.
"Anyone can be pushed with anything, and more if you are stressed out.

The difference is in the public eye everything gets blown up, so it's much more difficult for them to tend to their difficulties, because it's not private.

I'm hoping that it's a blown-up situation, they eventually separate and then work things out. All of his relationships with his exes, it didn't seem to be that there was this big, dramatic thing that caused a split.

It doesn't seem that way. There was never anything hostile, or anything. I don't see anything aggressive in those breakups," she said.
However, Elizabeth believes that Brad is suffering since the divorce became public knowledge.
"I think it's very painful having any kind of separation from any partner you've been together with for that long.

Let alone to have children that you raised and have been around all day, then not to see them… That's a very bad place to be. I can't even imagine what's going on and I hope he's OK and the kids are OK," she said.
Photo credit: Getty Images/WireImages