"It has made me remember I have a gift in her." Kalu Ikeagwu Praises Wife While Narrating His Ordeal With The Police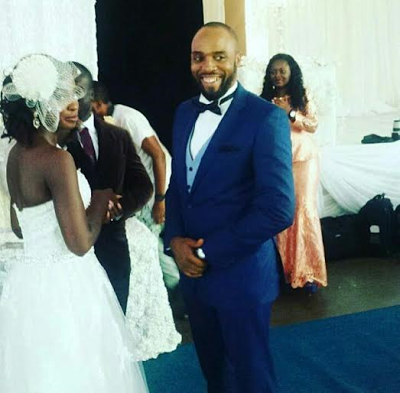 A few days ago, 26th of September, news broke that Nigerian actor, Kalu Ikeagwu was arrested for theft following an alleged robbery incident.
Kalu, who tied the knot with his make up artiste, Ijeoma Eze in June, this year, has finally opened up about his experience in the hands of policemen following his arrest.
He took to his Instagram page to air his mind lashing out at the media for the bad publicity, while also condemning the Nigerian police for its unprofessional conduct and approach in handling cases and situation.
Also in an exclusive interview with Sahara Weekly, he narrated the ordeal he and his family went through in the hands of the Nigerian police force.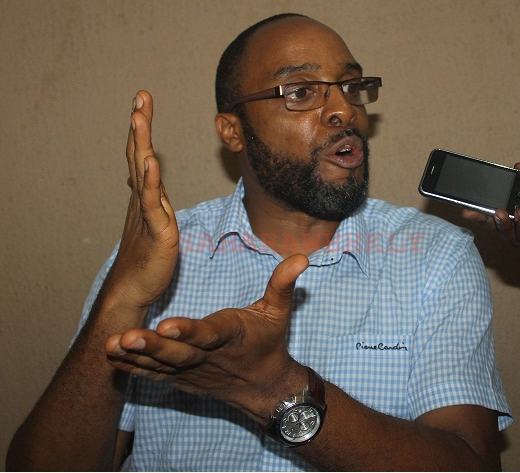 Read below…
"Yesterday, 26th of September 2016, at about 3:40pm my daughter had just been dropped off at home by her official school bus while I opened the gate for her to come into  the house,  two men accosted and ordered that I follow them, then I asked them who they are, instead they  flashed an Identity card that I only showed police written on it without any name. Meanwhile, these two men  were in plain clothes and one of them had a black looped earring .

At this point, I said I was not going to follow them since I do not know who they are. Suddenly a white unmarked bus pulled –up in front of me and four more men in plain clothes appeared from the bus with one pointing an AK47 rifle at my forehead …" Sensing danger, the actor smartly dialed his wife's  phone number but the men began struggling to take his phone from him. Before they took the phone from him he was able to tell his wife that 'some men purported to be police officers are taking me away'.

The men over powered and handcuffed him while they drove to Pen-cinema Police station Agege, Lagos State. They drove passed area G Police Station Ogba which is closer to Kalu's residence.

Arriving at Pen-cinema Police station, they held him outside  the gate;  until a man appeared wearing a black long coat who simply identified himself as Born Great Benin. "I said to him I cannot answer any question from you, unless I am taken  into the police station proper, it was this Born Great  Benin that later ordered them to take off the cuffs  and  asked them to bundle me into the bus again and they drove off to somewhere I later identified as area 'F' police station Ikeja.

At this area F rather than take me into the station's main building, I was held at a room when a certain gentle man identified as Deputy Superintendent of Police (DSP) Philips came in and  showed me  a telephone number and  asked if I knew the owner of the number."
Immediately, the light skin actor identified the owner of the number as his friend who had picked him up from the airport a few days earlier. He then inquired from his friend if he had bought a phone recently and his friend said yes and narrated how he had swapped his old phone (ipone6) for a new one (Iphone7) at the popular computer village Ikeja, Lagos, Nigeria and paid an extra N37.000 in a legal business transaction with a phone dealer.
"That was when they explained to me that since I was the last person who dialed my friend's phone number it made me a soft target-hence my arrest."
Ikeagwu's friend who travelled has since returned to Lagos. At the time of publishing this story Kalu Ikeagwu had been freed while his friend in company of a lawyer are working with the Nigerian Police Force to identify the phone dealer.
Asked what this experience has done to his family and his personal feelings towards the Nigerian Police, the graduate of English Language had this to say:
"First I will talk about my wife, she is still in fear even till this moment she even stopped me from jogging this morning . I thank God at the way she handled the situation,

For me, it only reminded me of what a movie director in Enugu told me, he said, he can forgive a man that takes away his wife, or a man that stabs him so long as he did not die, but can never lift a finger to help a dying police man. In my life I have never had dealings with the police but  it's unfortunate the way this episode ended.

Because their actions are an embarrassment to Nigeria's image,  the first skill of every intelligent police officer is his understanding of psychology but instead they chose to  do otherwise."
From the press perspective, Kalu said he is disappointed at some media houses and wishes to thank them for not having recourse to hear from him before publishing their stories on the matter.
He continues: "But when I wedded they had the time to call me and report  it, but when this issue  came up they forgot to call me,  later remembered to call me after they had publish their stories with my private home address  knowing how susceptible my family will be to miscreants and exposing me to the public unnecessarily."
Photo credit: Sahara Weekly/Instagram