"Why would I choose his death over a divorce if things were that bad?" – Chuks Okebata's Distraught Wife Shares her Side of the Story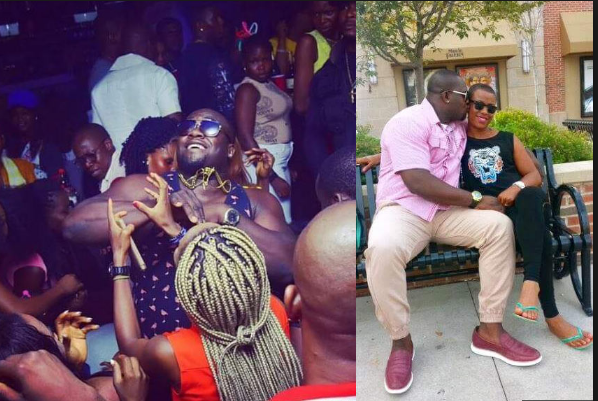 Wife of US army veteran, Chuks Okebata, who was murdered by individuals believed to be assassins in Imo state (read here) has shared her own side of the story saying she knows nothing about the assassination of her husband.
This is coming after the deceased's sister, Ada Mbaeri, shared videos of Mrs Okebata threatening to call the cops and get her husband jailed. Ever since the video was shared online, people have been accusing Chuks' wife of having a hand in his death.
According to her, she called the cops on her husband for her own safety because Chuks constantly subjected her to physical abuse.
However, she has responded with her own side of the story, writing to Amanda Chisom, a blogger.
"My own side of the story:

Amanda, I once came to you about my husband and his incessant abuse and cheating. Yes I am the wife of the man who was assassinated, and I am just distraught. I do not even know where to start but it is only right I tell my own side of the story. I am innocent, God is my witness that I did not kill my husband or the evil that my husband's family is portraying me to be, yes my sister in-law posted that video to make me look evil but the part she did not tell anybody was that I was calling the police to save me because he always beat me up and I was told to call the police whenever he started and that was exactly what I was doing, from the video you would see that I did not fight him or answered him. Should I have allowed him to kill me?

Amanda, we have been married for 13 years since I was 19, it has been beating upon beating, I have gone through surgeries because of beating he gave me. How can I kill my husband, we live together, till the day he left for Nigeria, I packed his things, how could I kill him. Who do I know to order a hit on the father of my children? I have no interest in his properties as suggested after all we built every thing together. God knows I am innocent. He went to Nigeria and was going to club spraying dollars and showing off, revealing his locations. They want to pin my husband's death on me, my husband was not assassinated. He was kidnapped, because he is a military man he is always with a gun and when he shot to death one of the kidnappers, they shot him. Why is my family leaving out information about what happened and pinning it on me?

I never threatened him to kill him, I am a working woman with a paying job and have no reason to kill him because of properties. All I just want is peace to mourn and raise my children. You can confirm my story from those people in my home town. My husband was careless in a country with high rate of crime and was kidnapped, if he had not shot one of the robbers all we would have been talking about is paying ransom not death. Amanda why would I kill the father of my kids, why would I choose his death over a divorce if things were that bad. I have two boys, who will help me raise them? I am completely innocent of all the allegations. I have endured all this years through his beating and cheating and I did not leave or kill him, why would I do it now? All I ask is that I am left to mourn in peace and the killers found and prosecuted.

Nne biko help me

I'm an innocent victim here

I love my husband and I'm still in tears

I'm mourning him and people are accusing me wrongly. My children are crying daily."
In another Facebook post, Amanda confirmed that Mrs Okebata indeed shared evidence with her last year that her husband was cheating on her openly and also abused her physically. Chuks is also said to have admitted that the reason for his cheating was because he was never satisfied by his wife at home.
See this screenshot of Amanda's post below and also a screenshot of Facebook comments made by late Okebata admitting that he was cheating on his wife:
"Hmmmmm
STOP PRESS!!!!!!
Everybody hold on for a bit on the assassinated guys story. Last year, a woman approached me that she wanted to share what she has been going through with her husband and I actually posted it. He was cheating and throwing it to her face and had pictures of the women too. I posted it here and if I remember vividly I told her that I will not post pictures of the women because Facebook will yank me off and a lot of you here also said no to it that I will get blocked.

Turns out she is the wife of the guy that was assassinated and I am sorry that has changed my perspective in the whole matter. I am not taking sides and I am sorry if I implied she may be guilty but with the story I had before and what I now have, that guy was lousy and anybody could have killed him, maybe her maybe not, let the court decide and let karma decide but I am morally obliged to post her own side of the story because she reached out to me and I was too busy to follow it up and even if you tag her guilty, She deserves to be heard and I am going to make sure of that.
Now the pictures are explicit and go against my professional ethics but let me explain, this guy I do not yet get what, why and how but he has naked pictures of a lot of women, their faces are all showing and obviously they posed for those pictures but he sent this to his wife and was bold enough to defend his cheating to the fact that he was not getting satisfied at home and that the women had bigger booty than his wife. I will post that part too. Who killed him??

Not for me or anyone to say except the police but with that lifestyle it could be just anybody or like I was also told Mberi is notorious for murdering rich folks and it is not unheard of for someone to be murdered. I have told her to bring her own side of the story and defence and I will use the blog but I still stand where I stand. If marriage turns to warzone. Sign out.

Brother I am sorry you are dead, I wish I was more attentive when she came to me last year. I wish I had given her attention maybe this would never have gone this way, if you were alive, I would have taken you to the cleaners on her behalf. But ya di ba."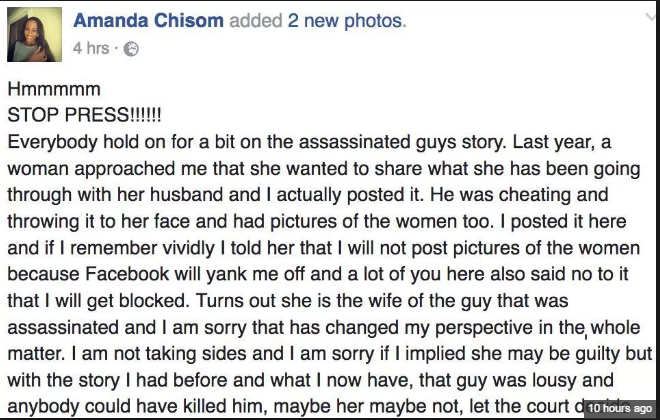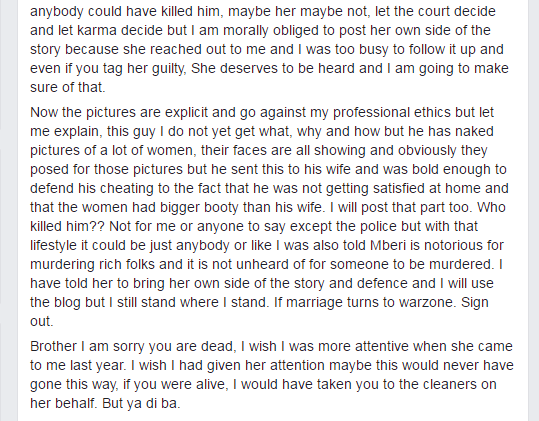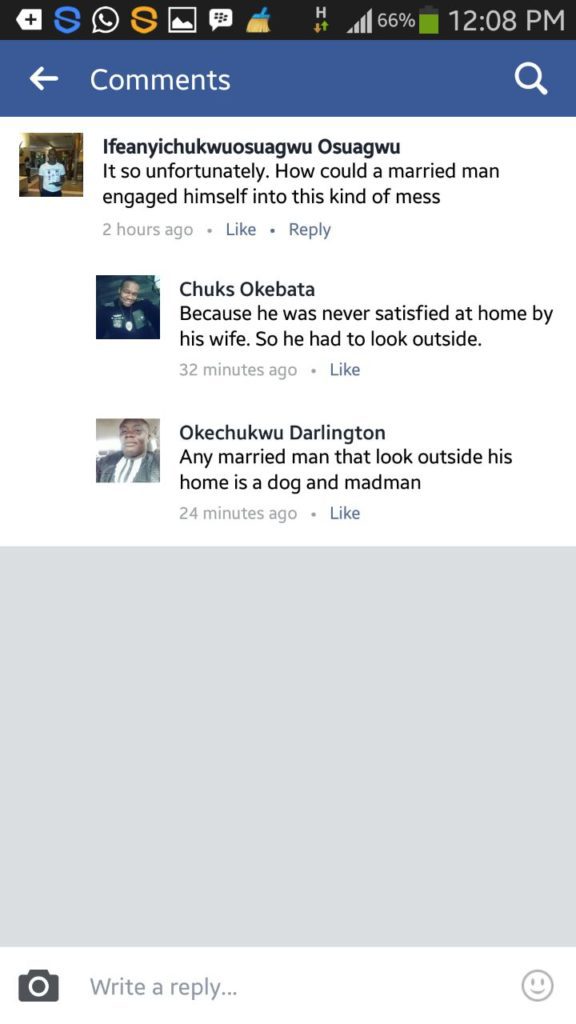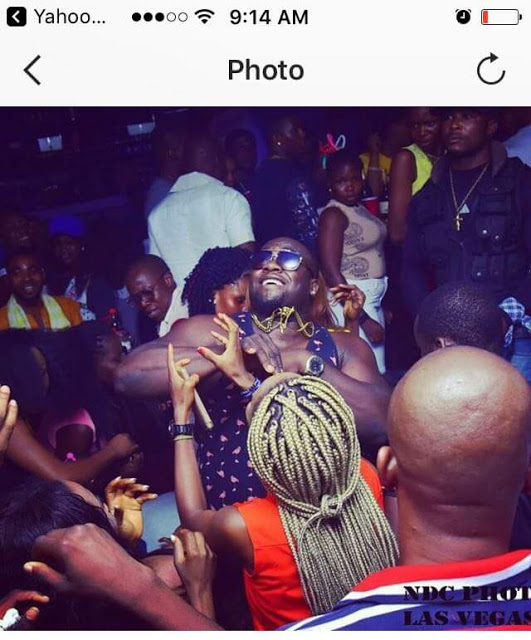 Photo credit: Amanda/Facebook