Tika Sumpter's Advice on Getting Pre-Pregnancy Body Back is a Must-Read for New Moms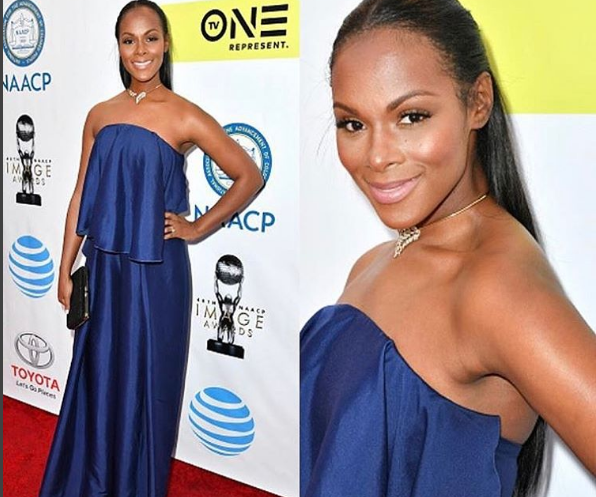 Now it is often a challenge for many new moms to get back their figure after having a baby. This often puts many women under pressure to shed that baby weight they accumulated during pregnancy.
However Hollywood actress and new mom to 4 month old baby girl Tika Sumpter, is speaking up regarding this issue (snap back) calling it 'unrealistic'.
In a recent interview with Coveteur, Sumpter, had this to share:
"There's a lot of pressure to do that, but I think, one, it's unrealistic. Two, it takes almost a year for your body to heal. Everyday people who have jobs and more than one kid, they're looking to us to inspire.

I think sometimes we push false claims about snapping back, when really, we have people helping us, whether it's trainers or people come to our houses. So I try to tell women, don't feel the pressure of feeling that way.

The pounds will come off, it just takes time, and you do what you can. You walk around your neighborhood, you try to eat better and make better choices, but it's not realistic to 'snap back' a month later.

You just pushed a whole human being out of your body, and had one sitting in there for almost nine months."
READ ALSO: Snapback Goals: Kerry Washington Talks Struggle To Get Her Pre-Pregnancy Shape Back
"I think it's important, in general, to take time for yourself and take care of yourself, especially having a child. You pour everything into the child, and I think it's important to remember, if you're in a relationship, to continue to build that and have a night out with your significant other and also you and your friends.

Even though you're not the person you were, being around your friends, they remind you, 'Oh, this is why I'm great, I'm still me, I'm not just a cow for my child,' [laughs]. Or a milk factory. It's good to be reminded you're still cool."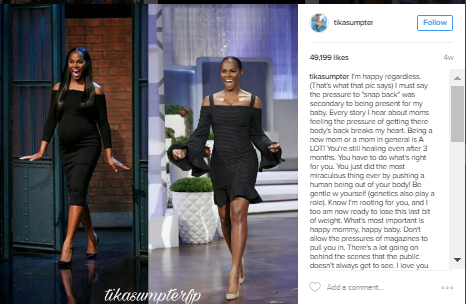 Sumpter, also shared this heartfelt post on Instagram:
"I'm happy regardless. (That's what that pic says) I must say the pressure to "snap back" was secondary to being present for my baby. Every story I hear about moms feeling the pressure of getting there body's back breaks my heart.

Being a new mom or a mom in general is A LOT! You're still healing even after 3 months. You have to do what's right for you. You just did the most miraculous thing ever by pushing a human being out of your body!

Be gentle with yourself (genetics also play a role). Know I'm rooting for you, and I too am now ready to lose this last bit of weight. What's most important is happy mommy, happy baby. Don't allow the pressures of magazines to pull you in.

There's a lot going on behind the scenes that the public doesn't always get to see. I love you guys. I'll be checking in w you on my new mommy journey. P.S. Spanks go a long way. #mom#newmommyclub #happymommy#happybaby"
Sumpter, gave birth to a baby girl named Ella-Loren, in January 2017.
Photo Credit: Instagram