Toke Makinwa Pays Tribute to Late Parents who Died in Tragic Fire Accident 24 Years Ago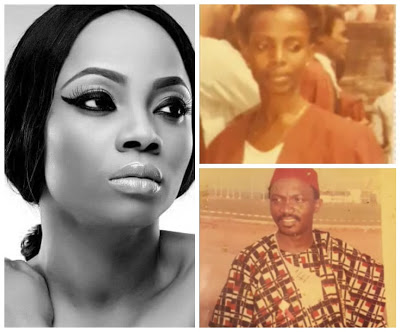 Yesterday marks the 24th year since Toke Makinwa's parents passed away.
Media personality, Toke, was just 8 years old when her 35-year-old father, Caleb Ifemayowa Makinwa, and 34-year-old mother, Modupe Monica Makinwa, died in a tragic fire incident after suffering serious injuries from a gas cylinder explosion at their Abuja home.
READ ALSO: OAP Toke Makinwa Reveals How Her Parents Died In Their 30s From Gas Cylinder Explosion
Celebrating their memories, Toke shared an emotional video and said:
"In the arms of an Angel….. May you find some comfort here. Since I was born and now as I am getting older, I have never seen the righteous forsaken nor his seed beg for bread. Today makes it 24 years since we lost you Mom and Dad, the years haven't been easy but your God has been faithful.
The greatest legacy and inheritance you left behind was the knowledge of Him. You served him, you loved him, you brought up your children in his way and when the enemy called it a tragedy, God rose up for you both.
You never got to hear the words well done but today I call your memories blessed, today I celebrate you both for the values you had. If you were here today I know you both would be great. God has taken care of us all in your absence, God has provided, God has kept us.
Today I celebrate the souls of the faithful departed, you saw Jesus at the point of your passing and anytime I feel afraid I call on the name of Jesus. You have both become angels, I find comfort in that. Watch over us always".
Watch…
https://www.instagram.com/p/BRQFBHuAtzx/?taken-by=tokemakinwa
May their souls continue to rest in peace!
Photo credit: Toke/ Instagram