UPDATE: Stephen Belafonte Reacts to Mel B's Allegations on Domestic Abuse & Sexual Exploitation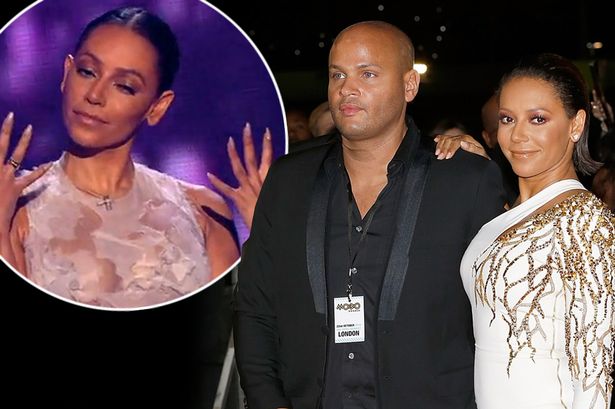 Stephen Belafonte, has broken his silence after his estranged wife, Mel B, accused him of severe abuse and sexual exploitation which led her to attempt to take her own life.
This comes after the former Spice Girl and mother of three was granted a temporary restraining order on Monday, after alleging Belanfonte was physically abusive, forced her into threesomes, and got their nanny pregnant (read here).
A Los Angeles judge granted the order after the singer filed court papers documenting the allegations.
According to BBC, Belafonte says claims that he beat his ex wife and forced her into unwanted sex are "outrageous and unfounded" and "nothing more than a smear campaign".
Responding to the claims, Belafonte's lawyers issued a statement on his behalf which read:
"It's a shame that Ms Brown elected not to proceed in a respectful and amicable fashion in this very private matter. In due course, Mr Belafonte will be filing his response to the outrageous and unfounded allegations made by Ms Brown, which allegations he vehemently denies.

When the Court determines the truth, it will become clear that this entire charade was nothing more than a smear campaign intended to cover up Ms Brown's own conduct during the marriage in light of her current involvement with a family television show, and in an effort to unfairly gain leverage both financially and with respect to custody of the children.

When the degree to which Ms Brown has gone to create a false depiction of her marriage to Mr Belafonte is uncovered, real victims and survivors of domestic violence and sexual abuse will be understandably offended, angry and upset.

Mr Belafonte is confident that the truth will come out when he has his day in court at which time he looks forward to being reunited with his children.

What matters most to Mr Belafonte is the safety and well-being of his daughters and step-daughters."
Last month, 41-year-old Mel filed for divorce from her husband of almost 10 years (read here). In the papers filed with Los Angeles Superior Court, Mel described Belafonte, a film producer, as a "large, extremely aggressive, hostile and violent individual" who was "controlling, manipulative and abusive".
Hours ago, photos Of Mel B and the nanny she alleged Belafonte got pregnant resurfaced online.
Mel is alleged to have sacked her former nanny, Lorraine Gilles, after a disastrous holiday in Ibiza and has since accused her in court papers of having sex with her estranged husband, Dailymail reports.
The reality star, who claims her 'monster' ex got Lorraine pregnant and paid for her to have an abortion – might have looked close to the blonde, but in the legal document she branded the July 2016 getaway 'mortifying'.
In the papers, Mel, said Belafonte demanded they go on a family holiday to Ibiza with Lorraine. She claimed she was 'mortified' because she wanted to go away with her husband and their children for a quiet break.
She further added that Belafonte spent the holiday 'name calling, screaming, yelling, demeaning conduct' in the presence of Lorraine.
"I would leave the boat daily to go to the gym in an effort to get away from [Stephen] and Lorraine. He would degrade me in front of her by comparing me to Lorraine, telling me how much younger and better looking she was.

I later discovered that (he) was having sex with Lorraine and was paying her inordinate amounts of money. Over the course of some three years, I recently learned that (he) paid Lorraine in excess of $300,000 for alleged nanny services.

He immediately began setting Lorraine up as my rival. She answered to, and reported to (him)."
She also revealed her 'shock' and 'disbelief' when Belafonte told her 26-year-old Lorraine was pregnant with his child in 2014.
"He told me he wanted her to have the baby and all three of us live together. I was shocked and in disbelief. He later demanded that Lorraine had an abortion. Respondent used money earned by me to pay for Lorraine's abortion, and he used money earned by me to pay for Lorraine's hotel stay while she recuperated from the procedure.

He told me that Lorraine raised our children far better than I ever could. He told me that she was his 'ride or die b****' and the only woman in his life that completely had his back.

He stated to me, 'No matter what she will always be in my life. How dare you fire her'. When he finally calmed down he told me to shut up and listen – instructing and demanding that I call Lorraine, apologise profusely, beg her to come back, re-hire her, and give her a raise.

He then threatened, 'You do realise that Lorraine could be a witness against you and give a story to the press and tell child services. Your career will be ruined'. This was just another threat in a long line of threats made by (him)."

After the holiday, Mel said Lorraine laughed when she terminated her employment for the second time and gave her six weeks' notice until September 2016."
Read more on Dailymail.
Photo credit: Tres/Vintage News