Janet Jackson Steps Out with her Son Eissa for the First Time + Read New Reports About Split from Her Husband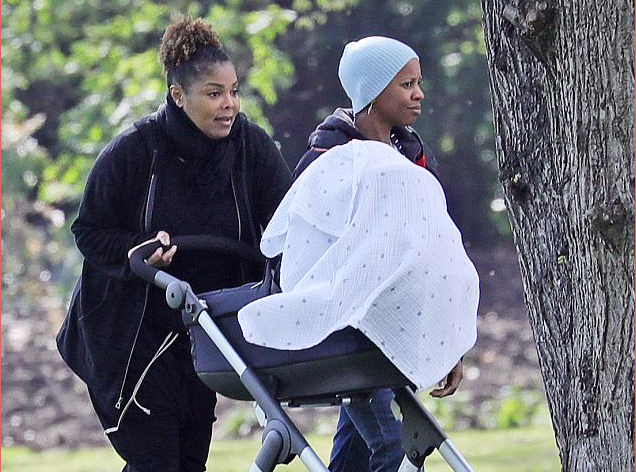 Amidst reports of a split from Qatari billionaire husband, Wissam Al Mana (read here), 50-year-old Janet Jackson looked happier than ever as she emerged for the first time with her baby boy, Eissa.
Janet, who welcomed her first child three months ago, was seen beaming with pride as she strolled around a London park on Wednesday.

Janet also ensured paparazzi did not get a  glimpse of her child who was in a stroller.
The popular American singer separated from her Arab husband of five years earlier this month. New reports now claim that cultural differences took a toll on their marriage, Daily Mail gathers.
READ ALSO: Janet Jackson's Ex-husband, James DeBarge, Claims They Have A Secret Child Together
 According to a source:
"Wissam wanted a wife who stuck more with the Muslim traditions. She felt like she couldn't be herself anymore. She couldn't settle down and be what he wanted her to be. Janet wanted more freedom.'

Janet felt hidden away from her family. She missed them."
Since the shocking news of her split, the actress has been seen a couple of times in London after being somewhat out of the limelight during her marriage.
READ ALSO: Pregnant At 50! Blogger Sandra Rose Warns Women Not To Try It Because…
"It's really unusual to see her out of the house because she hardly seems to venture out at all. Apart from a few people, she hasn't really had any visitors,' the source added. 'After the baby was born, Wissam was at the house all the time, but in the past month, he's barely been there at all," another source stated.
It was also gathered that the estranged couple's pre-nuptial agreement stated that a substantial financial payout would only be payable if the marriage lasted five years.
Since it's believed that they married in early 2012, Janet could now be entitled to a substantial chunk of Al Mana's fortune.
According to another source, it's believed that Janet will likely continue to live in London as she raises her son so that her ex will have access to the child.
"They're both busy people but determined to be good parents, even if they're apart. It's amicable and Eissa will stay with his mother," a source told Britain's Mail On Sunday.
This will be Janet's third failed marriage.
Photo credit: Xposurephotos.com