Omotola Slams Instagram Account that Compared Actresses: Chioma Akpotha, Uche Jombo, Omoni Oboli & Ufuoma Mcdermott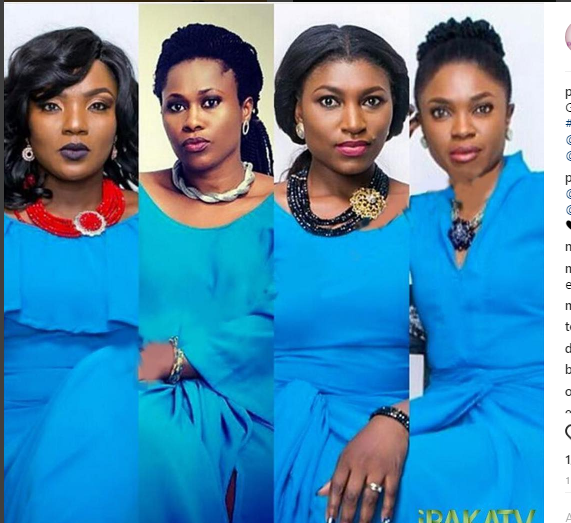 Playground.ng, is a social media account on Instagram created to give gist, news and promote different Nollywood actors and actresses. They shared a picture on their page of Chioma Akpotha, Uche Jombo, Omoni Oboli & Ufuoma Mcdermott, all lead actresses in Omoni Oboli's successful film Wives On strike. Fans where then asked to pick who their favorite actress was:
"Who Among These Gorgeously Dressed Women Of #WivesOnStrike Is Your Favorite? @chiomakpotha @uchejombo@ufuomamcdermott @omonioboli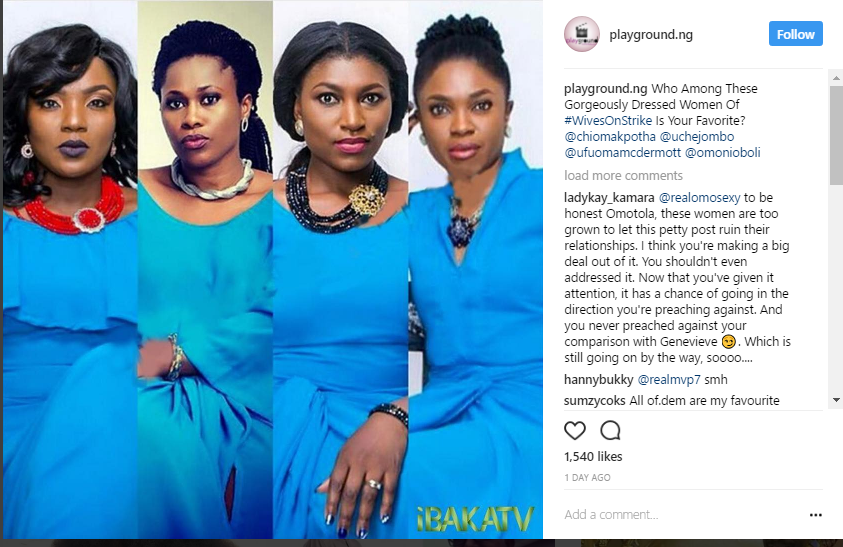 This post caught the attention of Nollywood star and Icon, Omotola Jalade Ekehinde. The beautiful mother of 4 who dropped a comment on the post, stated that questions like this posted by blogs sows seeds of envy, as comparison sets in and may end up ruining friendships. See her response below:
"@realomosexy: No pls stop this! You ruin women and great relationships by sowing this sort of seed! Stop with the comparisons / who is your favorite …. Its unnecessary and breeds strife . Fans pls resist this!"
Omotola's stance did not go down well with @vivaciousblogng. The blog account in turn called the actress out, saying that Omotola should be advising trolls who drop nasty comments rather than try to create a problem when there is none. Read below:
"from @vivaciousblogng – Omotola Advises Against Post Comparing Chioma Akpotha, Uche Jombo, Omoni Oboli
I dont see anything wrong in asking who rocked it better……Maybe I am wrong.
Comparing like this is an Entertainment thing and most entertainment websites all over the world do this…what/who you should be advising Omotola are those who cuss out on the Nigeria internet scene…The comments on other internationals websites compare with respect are a delight to read.
Why should comparing outfit breed strife? My view though."
The back and forth comments on this picture, have now left fans with divergent opinions, as some think Omotola had no basis for suggesting that a little competition would create strife, while others support her point of view. Let us know, what do you think?
Photo Credit: Instagram