Estranged Hubby Carmelo Anthony Reportedly Seeks Reconciliation with Wife La La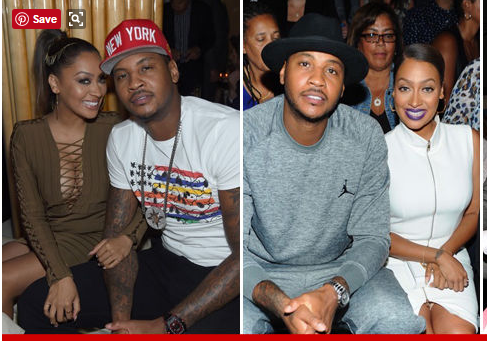 You will recall that La La Vazquez, 37, and Basketball player husband, Carmelo Anthony, 32 earlier separated due to allegations that Carmelo was messing around with a stripper in New York and allegedly got her pregnant, read here. No divorce papers have been filed, but reports have it that La La had moved out of her husbands house due to the heart break.
In all new reports, TMZ claims that Carmelo has been sending his estranged wife texts, telling her that he is still in love and doesn't want her to leave him. He is said to have apologized over many times and is reportedly begging her to come away with him on vacations to give him a second chance.
READ ALSO: La La Anthony Steps Out Without her Wedding Band after Separation Reports 
Reports also state the NBA player has recently been showing La La a different kind of love, by liking every one of her posts on Instagram, just to get her attention. The couple are said to still be on friendly terms, mainly because of their son, 10-year-old Kiyan Anthony.
Photo Credit: TMZ