Mum of Two Shares Some Interesting Things about the Placenta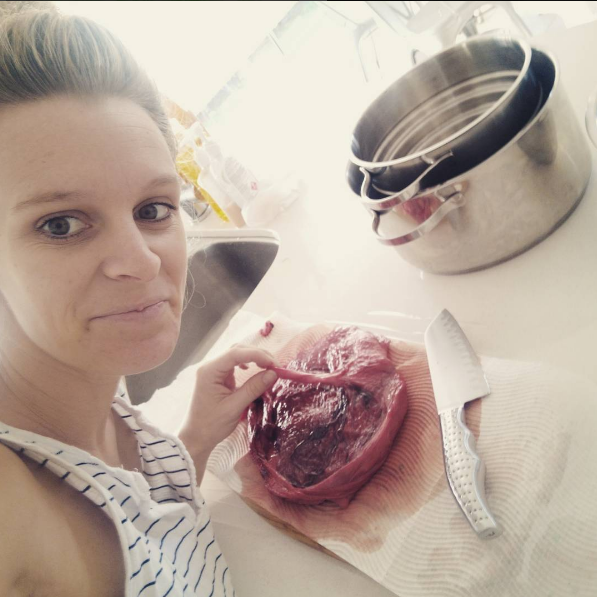 Celebrity mothers like Kim (read here) and Kourtney Kardashian have confessed to cooking and eating the placenta, so this might not be surprising. There have been several claims about the nutritional value of the placenta. Well, a 26-year-old mother of two cooking her own placenta took to Instagram to show off the placenta and how she cooked it to eventually dry and grind it into powder form.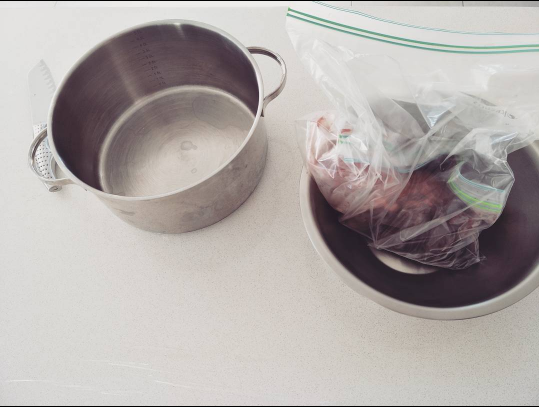 READ ALSO: #Bizarre: Cleaner Eats Placenta of a New Born| Her Reason Will Totally Shock You
The woman who goes by @babysblessings wrote:
"My placenta has been sitting in my freezer, waiting patiently to be processed. I was in no rush to defrost it and start practicing yet as I'm unable to consume it like I was planning, but I came across something interesting last night that made me think I better hurry up and do something meaningful with it! Robin Lim is an Indonesian midwife who has helped many families on their pregnancy journey.

In Indonesia they bury the placenta as they believe it's the child's guardian angel and it needs to be returned to the earth. She says parents who have the placenta still in the freezer have reported their baby still has the sniffles. She tells them to return the placenta to the earth and the sniffles will be gone.

Halle has been congested since birth and my placenta is sitting neglected in the bottom of our freezer… I think it's time to start defrosting and return it to the earth and see if this Indonesian tradition can get rid of her sniffles
Yep, this is exactly what it looks like ???? first step is to rinse away the blood.
 This is what I did with my morning. Finally defrosted my placenta and steamed it.
It was really quite strange handling my own placenta, something I'd grown in my body and had nourished my baby girl for nine months. Up close the vein structure is actually quite incredible and feeling and examining every part taught me more then I could have read and researched.
So I'm in the dehydrating stage now of my first placenta. I'm going to ground it up into powder form to get the hang of all my equipment and I'll encapsulate a couple for practice but the remainder of the powder will be buried in our yard under a tree ???? stay tuned for more photos ????."
She earlier admitted:
"Unfortunately I won't be able to consume my placenta like I was planning. People have reported their symptoms of cholestasis returning when consuming their placenta and that's just not something I want to experience again. I will however be practicing all my skills on my placenta and look forward to creating some prints to keep. The midwives were impressed with how healthy looking my placenta was and the length of the umbilical cord. It truly is an incredible organ."

What is cholestasis? It's a liver condition causing extreme itching. It can be dangerous to bub so you are advised to be induced to reduce the risks. You can consume your placenta but there's a good chance you'll experience the itching again…it was a horrible condition so I don't want to experience that again," she added.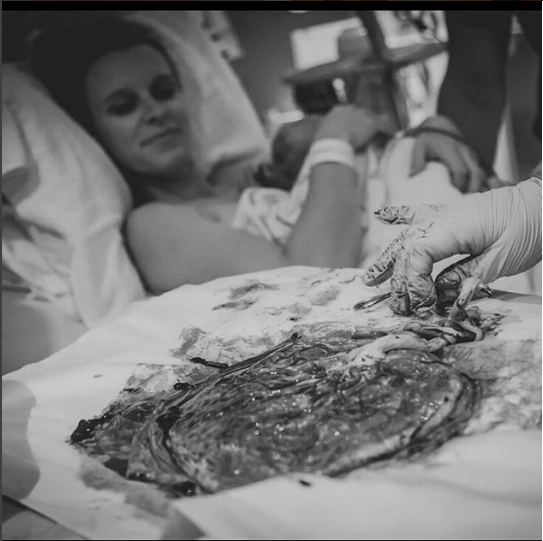 She later stated in the comment section:
"There are many ways you can consume the placenta and it has a heap of amazing benefits including increase milk supply, helps the uterus to contract quicker to lessen postpartum bleeding, helps with post natal depression, just to name a few of them"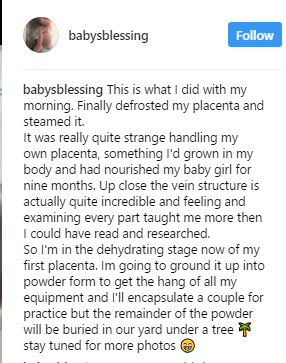 Photo credit: Instagram/@laurenbiggslbph