Why Students of University of Ibadan Are Furious After Photos of VC Attending His Son's Convocation Hit the Internet
Students of the University of Ibadan (UI) is not happy that their vice-chancellor, Idowu Olayinka, attended his son's convocation in the USA last week.
This comes after the management of the institution on Monday, May 29 shut down the school following a protest over the issuance of students' identity cards before the first semester examination and use of electric-powered cooking appliances in the hostels. As a result, students were to vacate the hostels no later than 6:00 pm, Punch gathered.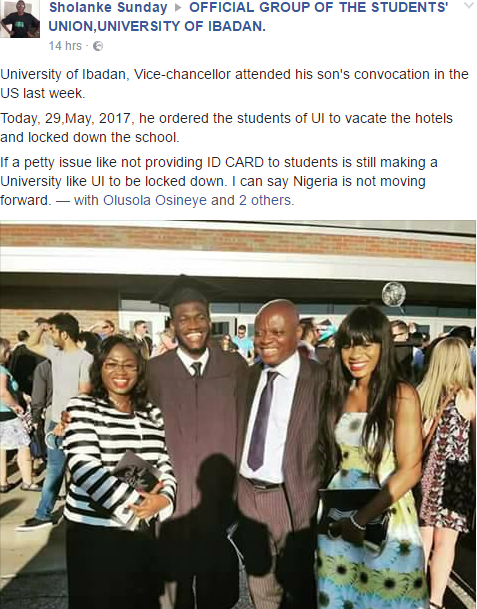 The university's Director of Communications and Publication, Olatunji Oladejo, told newsmen that the closure became necessary so as to avert crisis, adding that the VC had convened an emergency meeting of the university Senate to review the circumstances surrounding the development.
In addition, he said that undergraduate students are to resume on July 17, while the post graduate students would continue to stay on campus for their research activities.
At a congress called by the Student's Union on Saturday, resolutions passed included an ultimatum to the school authority to constitute the Students Welfare Board and set up a committee to look into the issue of the use of electric-powered cooking appliances in the school hostels.
The students also resolved to disrupt the forthcoming examinations if students were not provided with identity cards.
In response to the congress, a statement from the school management on Sunday however stated that contrary to the students' claim that their requests were not taken seriously, the school authority had addressed the demands and appealed to the students to be calm and shelve the protest.
The statement reads:
"The expanded management of the university met with the leadership of the Students' Union on May 28, 2017. The meeting is sequel to the resolutions passed at the Students' Union Congress that was held on May 27, 2017. The management called the meeting in the interest of peace and the well-being of our students.

The management wishes to inform students that efforts are currently being made to ensure that identity cards are produced and distributed starting from the middle of June.

The problem of the use of unauthorised cooking appliances in the halls is not new. Indeed, at a meeting between the university management and the students sometimes in 2014, it was agreed that cooking appliances, especially hotplates, be abolished in the halls of residence because of the huge cost of electricity to the university. Besides, the non-use of these cooking appliances is part of the agreement signed by each student before residency in the halls."
Photo credit: Facebook