See Why Pastor Refused to Let Deceased Wife be Buried on Her own Property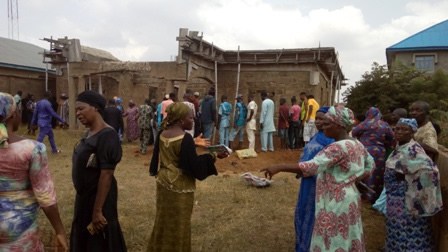 There was a strange unconventional drama over the weekend at Oke-Andi area of Ilorin, Kwara State when Jacob Oyedepo, an Abuja-based Pastor who works with the Redeemed Church of God invited bouncers to disperse relatives and friends who had gathered to bury his wife of 17 years on a property  that was said to have been developed by her before her demise.
The deceased, Christiana Adetola Oyedepo (nee Abu) died on May 2, 2017 after a sickness that she was said to have endured for about three months. She was aged 45 years.
According to New Telegraph , there were speculations  that the cleric had attempted to sell the uncompleted property and was concerned that burying the woman on the site would discourage prospective buyers from purchasing the property.
Family members claimed that the deceased ( Mrs Christiana )  had started a project with loans obtained from a cooperative society and was still servicing the loan when she died.
Family sources claimed that their marriage had been rocked by allegations of maltreatment allegedly by the cleric but that the deceased had kept it under wraps to prevent public ridicule. A family source said the couple had met in church and started their relationship. it was said that the family of the woman did not approve of the marriage until after so much persuasion from their daughter ( the deceased).
A family source said the two had met in church and started their relationship there.
"She was head of choir and he was head of Youth team in the church," the source within the family said, adding: "Our parents never approved of the marriage initially because the deceased just came home to introduce the man and insisted that she was in love with and that he was a good Christian. That was what made us to finally accept. We didn't know there was a lot of abuse in the marriage until she gave birth to the fourth child and she began to speak about it."
Photo Credit: New Telegraph