Tonto Dikeh Defends her Action of Dressing Like a Man to Represent Son's Dad at Father's Day Celebration at School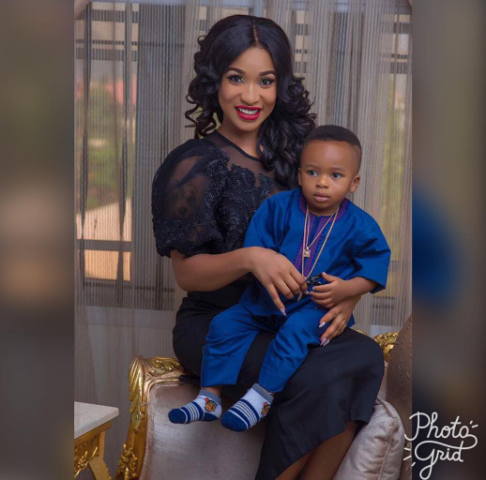 Nollywood doting mum, Tonto Dikeh is celebrating her son, King Andre who turns 14 months today, June 17. She shared the beautiful photo above via Instagram early this morning and in the caption, the 32-year-old single mum of one tried to defend why she dressed as a man to represent her son's dad at the father's day celebration at his school yesterday (read here).
READ ALSO: Tonto Dikeh's Estranged Husband, Olakunle Churchill, Tells his Side of Story in Explosive Interview
According to her, dressing like a man to her son's school's Father's Day celebration, goes a long way to show him how much he will never feel left out or unloved.
This is coming after Andre's father, Oladunni Olakunle Churchill, reacted to her action with a cryptic message saying "It's cruel and it's unfair.
She wrote:
"GREATNESS DOESN'T HAVE A COLOUR, WEIGHT, HEIGHT, SEX OR AGE. IT ONLY HAS PASSION, EFFORT, FOCUS AND THE HEART TO SUCCEED… YOU ARE GREATNESS MY CHILD.

Happy 14 months my Angel, No need for long episodes..yesterday goes a long way to show you how much you will never feel left out or Unloved..My blood is yours, My heart YOU stole easily, My strength,Prayers and energy Are all yours.I Love you My Life,My Ace,MY SON???????? #KINGY#14months #Love #Son #Motherhood#Parenting"
According to sources, Tonto has had custody of their son since their marriage to crashed earlier this year over claims of infidelity and battery (read here).
Photo credit: Instagram