"I am a Strong Woman!" – Mum of 3 Ivie Edobor Celebrates One Year of Surviving Brutal Domestic Violence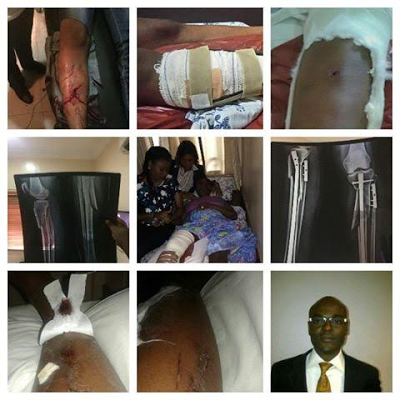 Mother of three, Ivie Edobor, victim of domestic violence who has been in and out of court and hospital after she was brutally assaulted by her estranged husband, John Edobor and his thugs in Lagos (read here), marked one year of the aftermath of the ugly incident yesterday.
Ivie, whose bones were crushed by her husband (a Zenith bank staff) and is currently on crutches with iron bars inside her legs to aid support, took to Facebook to write an emotional post, adding that her husband who assaulted her, jumped bail and has fled to America with his mistress.
READ ALSO: Ivie's Husband, John Edobor, Accused Of Breaking Wife's Leg, Shares His Side Of The Story
Sadly, it was gathered that her legs will never be healed.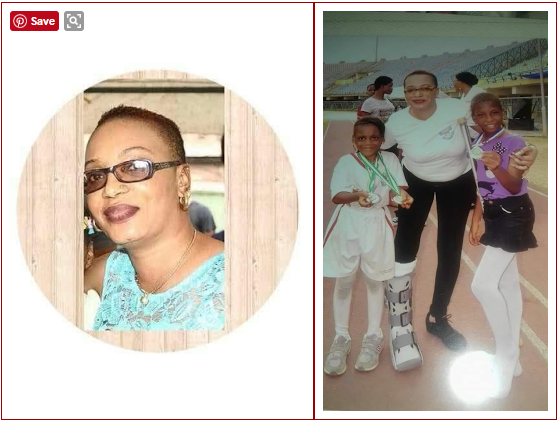 Read her post below…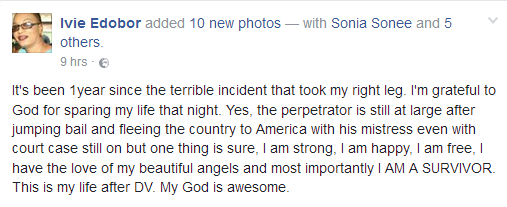 "'Its been 1 year since the terrible incident that took my right leg. I'm grateful to God for sparing my life that night.
Yes, the perpetrator is still at large after jumping bail and fleeing the country to America with his mistress even with court case still on but one thing is sure, I am strong, I am happy, I am free, I have the love of my beautiful angels and most importantly I AM A SURVIVOR. This is my life after DV. My God is awesome".
Photo credit: Facebook