"My parents are my relationship goals" – Ali Baba's Teen Daughter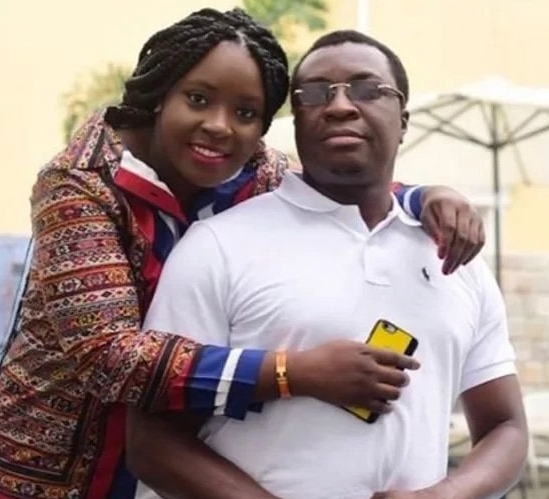 Ace comedian, Ali Baba's 21-year-old daughter, Atunyota Alleluya Akpobome, aka Xsara shared on her upbringing, parent's relationship, the kind of dad Ali Baba is, and more, in a chat with Sunday Beats.
Read excerpts below…
About herself
I'm a student of the University of Derby, UK, where I am majoring in media studies. My father has five children; three girls (Xsara, Brandi, Valerie) and two boys (Ejiro and Tejiri, who are twins).
About her childhood experience
I would say it was interesting and I don't remember there being a dull moment. If we didn't have guests, we always found a way to entertain ourselves. My dad used to buy us board games like chess, scrabble, draft, monopoly, among others.
How often does your dad spend time with his children?
We see him quite often. No matter how busy his schedule gets, he tries to create as much time as possible for us. If he knows that he would be very busy and we don't have to go to school, he would take us along with him to events and rehearsals. And when he needs to go on stage, he would assign someone to watch over us. Sometimes, we spend the whole day with him at the office, or we could just drive around Lagos with him. Even when we're in school, he comes to see us as much as he can.
READ ALSO: "Make yourself the desired one …" Comedian, Alibaba, Gives Relationship Advice
Does your mum usually go with you on those trips?
Not really because she also has to go to work. They're usually father-children bonding sessions.
Did he ever sit down with you to discuss your career path?
Not really. He just told me to go after what I'm passionate about because if I go into it for just money, I would never really enjoy it. And I wouldn't even be able to put as much effort and passion into it. Meanwhile, if it is something I love, I would be able to reach my full potential.
How did your dad discipline you as kids?
I would not even hide it; he used to beat us a lot. He used to get us whatever we wanted, such as snacks and movies. But he could not stand children being rude and undisciplined. It makes him mad. Sometimes, he would ground us, and if that doesn't work, he wouldn't spare the rod. He could also restrict us from doing certain things like watching TV, having access to electronic gadgets, among other things.
Who disciplines you the most between your mum and dad?
It's undoubtedly my dad. If he hears 'Your children have been very naughty…' he wouldn't even wait to hear the end of the statement before calling for us.
Who are you closer to between your dad and mum?
That would definitely be my dad. He is like my rock. We talk about anything and everything, ranging from social media to current affairs, and even things that I witnessed. Sometimes, I come up with jokes, and I run them by him for brushing up, as well as business plans.
Apart from comedy, one other thing I respect about my dad is his intellectual prowess because he is so smart. If you take any problem to him, he would be more than willing to help you.
Does he talk to you about boys?
Not really. I think that is one area that he would just prefer not to touch. As much as we talk about a lot of different things, when it comes to that area, he would always see me as his little girl. One time, he talked about people sending their applications to Warri if they were interested in me, but it was just a joke.
What's the worst thing you've read about him?
I once read online that my mum is the breadwinner of the family. I just laughed because people just look for things to say, whether it's true or not. If someone charges nothing less than N3m for a show, you can imagine how much he would make per month if he attends about five shows per week. Sometimes, he could even charge up to N10m. It doesn't even matter who makes more in a marriage because it is a union and two have become one.
What are some of the most important lessons that your dad has taught you?
He has taught me to be myself at all times; he doesn't believe in fake life. And I think the most important lesson is to never settle for less. If you know your worth, always insist on it, no matter what.
How would you describe the relationship between your mum and dad?
I would say they are my relationship goals. They have been through it all and they are still going strong. They started off as friends and that's why everything seems so easy. They have their ups and downs like everybody else but they deal with it so well that we, the children, wouldn't even know about it. They relate with each other like best friends.
How romantic is your dad?
He can be very romantic. There was a time we were in London and it was very cold outside. We didn't know it would be that cold so when we stepped outside, we didn't really dress for the weather. My mum was freezing and my dad took off his shirt and wrapped it around her. Meanwhile, all he was wearing was just a vest. And when her leg is hurting, he would carry her up the stairs so that she wouldn't have to walk.
What would you say makes your dad unique?
He is always there when you need him, and he is very social media savvy. Most fathers I know just post pictures occasionally even without captions, but my dad often takes his time to put up meaningful posts.
Photo credit: Instagram