Strong Mama! Olympic 800 Meter Runner Alysia Montano Races Confidently With 5 Month Pregnancy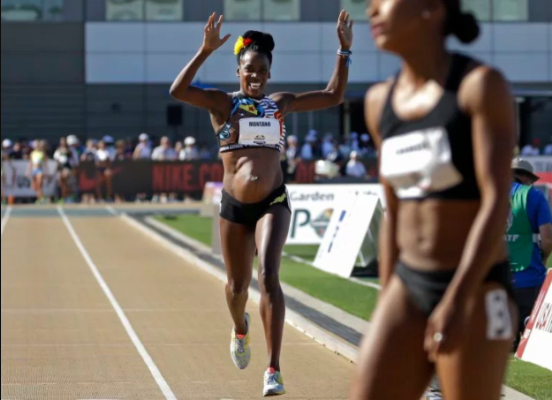 800-meter runner  Alysia Montano  finished more than 19 seconds behind the winning time on Thursday night at the United States of America Track and Field Outdoor Championships in Sacramento under scorching weather while pregnant.
According to NewYork Daily News, She took two laps at nationals while pregnant with her first child and decided to do the same with baby number 2.
Wearing a customized Wonder Woman top and the trademark flower in her hair, Montano finished in 2 minutes, 21.40 seconds to eclipse her previous-best pregnancy time by nearly 11 seconds. She was eight months pregnant when she attempted the endeavor in 2014 at the same track. Montaño said she was inspired after learning that Gal Gadot filmed half of Wonder Woman while she was five months pregnant.
READ ALSO: Ex-NFL Player, Ed Hartwell, Files For Divorce A Week After Announcing They Are Expecting Their First Child
"Everyone is like, Oh  you're going to be faster than you were last time, because you're less pregnant," said Montano, whose personal-best time is 1:57.34, a record set in 2010.  She said her response to such statement is as sarcastic as the statement "I'm like, 'I'm still pregnant."
"There's something about coming out to any venue, not really expecting to win but just going along with the journey and seeing what comes out of it. It's been fantastic.,"
She said she wasn't worried about the 110-degree heat. She hydrated before the race and stayed in the shade until it was time to start running.
Photo Credit: NewYork Daily News