See How Adesua Etomi Was Able to Keep Her Relationship With Banky a Secret Before the Grand Proposal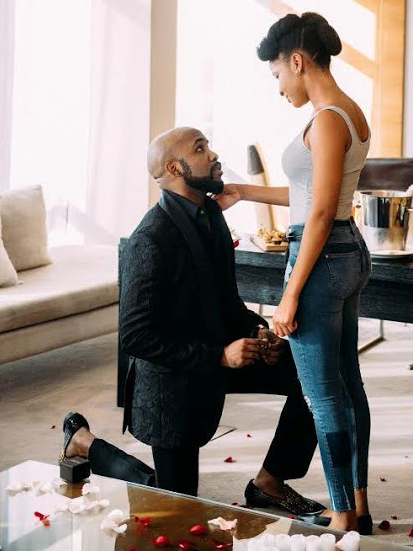 In less than three years in Nollywood, actress, Adesua Etomi has fast become the industry's sweetheart. Her engagement to popular singer, Banky W, took many by surprise, as the announcement pretty much broke the Internet.
In an interview with Guardian Life, she disclosed five things people don't know about her and how she was able to keep her relationship away from the public eye. She also revealed some facts about herself people may not know.
"I'm left handed. I'm not a fan of handbags and jewellery. I think Will Smith is perfect. My mum is a pastor and I sang in a choir for ten years. I didn't come here thinking I am going to meet this person and meet that person, my strategy was prayer and divine connections.  That was what I was going for, I wasn't trying to look for who was going to help me or give me a handout."
READ ALSO: "I'm blessed. It Ain't Luck"- Adesua Etomi Addresses Troll Who Suggested She is After Banky W's Money
When asked how she was able to keep her relationship with Banky is a secret, she said:
"I'm very particular about my inner circle, you can count my closest friends on one hand. That's because I believe you just need a few good friends. I am very friendly to everybody else. Also my family, my mum, those are the people that keep it all together for me and they are always there and you can't beat that."
When asked her typical day:
"I wake up, I pick up my phone, I try to say a prayer and then I make a particular phone call (she laughed, obviously alluding to Banky W).
She also admits to being a home buddy and a movie lover which is how she takes downtime from her busy schedule with some good food.
When asked how she juggles it all she explains:
"I just do it. As I'm talking to you since the beginning of this year, I have worked very single month, I have shot in South Africa for two months. I'd also like to become a producer as well as a mother to many saying, at some point my ten year plan, maybe even less, is to open an orphanage, I love children and I am very passionate about people and children that need help, so I feel like I am going to be a mum to many."
Photo Credit: Guardian Life