How Married Man Slid Into Beverly Naya's DM To Propose Marriage Will Annoy You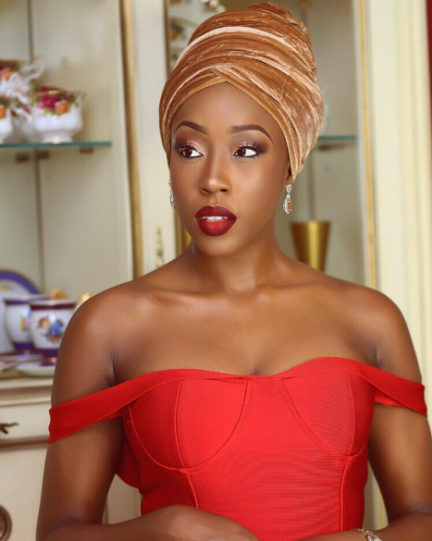 Tinsel Star actress Beverly Naya, took to her Snapchat to share a screenshot of a Direct Message (DM) she got from a 'married' man, who asked her to be his second wife and also 'Queen 2'. Lol!
The man who obviously wanted to be sincere about his feelings did not hide his marital status or identity of his supposed first wife, he also claimed that his first wife will have no issue with him marrying another wife, as he knows how to 'handle her decisions'- Sigh!
Actress Beverly Naya was shocked to receive such proposition for marriage from a man who boldly professed his love and insinuated that his first wife will be comfortable with a co-wife because she was helplessly in love with him.
READ ALSO:Attention Ladies! Nollywood Actress Beverly Naya has Some Valuable Advice about Your Sexuality
She immediately took to her snapchat and posted the screenshot of the DM:
"Thats my first wife on my page photo we had issues I snapped at her, I needed to calm her down. She is helplessly in love with me and has a very sensitive psyche so I just tingled her spine a litle. We been at logger heads since Sunday and the look she has been giving tho I needed to clear her misery. I have not broken the news of you being my second wife to her it will come gradually once she is at peace. I know how to handle her decisions. So in summary Bev, you will also enjoy the queenly rights to its fullness because you are my queen2.

Just two of you and I am so fine. . . "
Here's the Screen shot of chat below: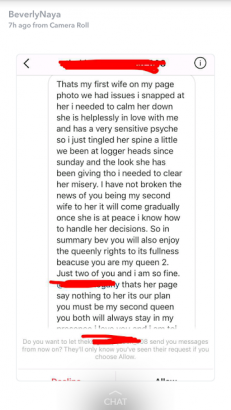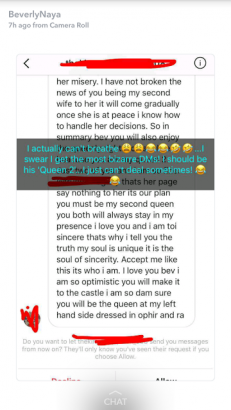 Photo Credit: SnapChat/BeverlyNaya