Toke Makinwa Fired Back at Twitter User Who Says She Shouldn't Give Marriage Advice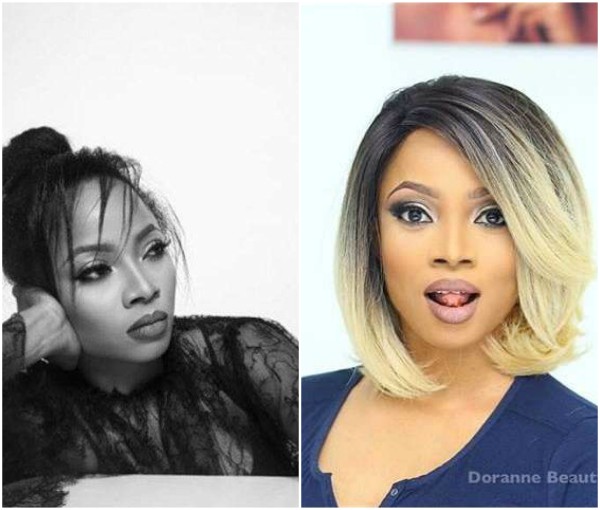 This morning, Toke Makinwa was asked by a Twitter user to stop giving ladies marriage advice, as she is not in best position to do so due to her failed marriage to Maje Ayida, and she fired back.

Speaking on the need to end the culture of shaming women whose marriages crash, the 32-year-old popular media personality noted that men are hailed and absolved of all wrong even while on their 4th/5th marriages with babies left, right and center.
READ ALSO: Toke Makinwa Recalls how she Lost a N20million Deal Because of her Failed Marriage
See her tweets below…
"They say "don't give relationship advice cos yours did not work", perhaps the knowledge of why it failed can. Why shouldn't I give her wedding advice RT @HEAVENSECURITY: @tokstarr JUST DON'T GIVE HER WEDDING ADVICE.

People die in silence for the fear of being ridiculed, you are not what happened to you, it happened for you to get to where you are. We blame the woman for everything. Her marriage didn't work equals she's in no position to talk about marriage.

Kind of reminds me of how if you didn't do well in school your parents are quick to remind you when they see you having fun.
READ ALSO: "There is more to life than the shame I went through in my crashed marriage." Toke Makinwa On Giving Marriage Another Shot
Nigerians and the constant need to promote the "Shame culture", no wonder a lot of people die in silence for the fear of being judged.

Some men are on their 4th/5th marriages with babies left right center and we hail them and absorb them of wrong.

During my situation, there was nothing I did not hear. If I cough, "U can't cough cos your marriage o" where are these same people today?"

READ ALSO: Toke Makinwa Spills On Failed Marriage, Sex Tape, Bleaching To Keep Her Man, And More In Her Book 'On Becoming'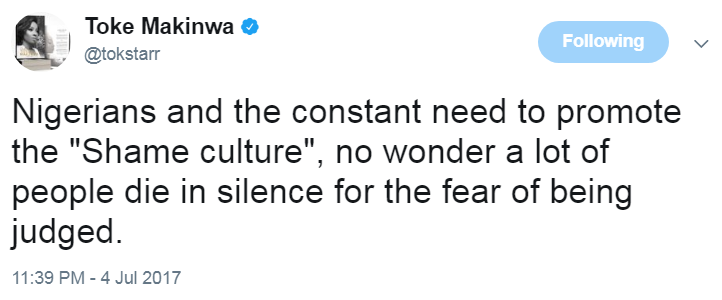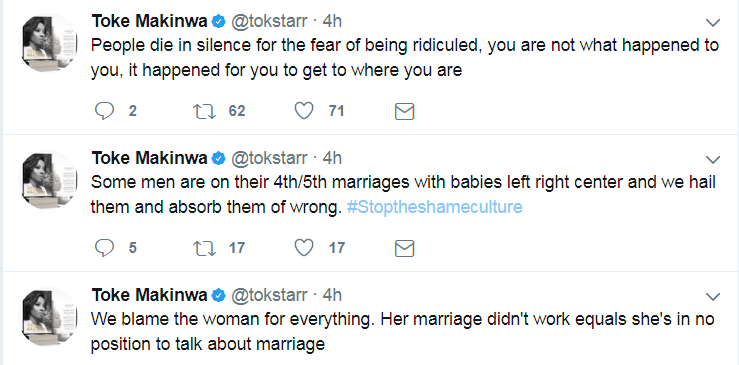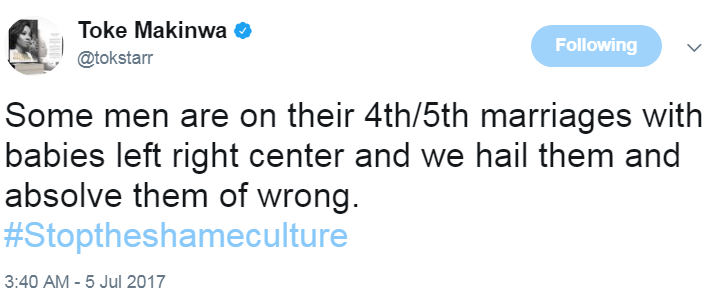 You will recall that the award-winning TV personality officially filed for divorce from her estranged husband following the infidelity saga, in June this year.
Photo credit: Instagram