From Welfare Road, Warri, to the Silver Screen, RMD Shares Enlightening Life Experience as he Marks 56th Birthday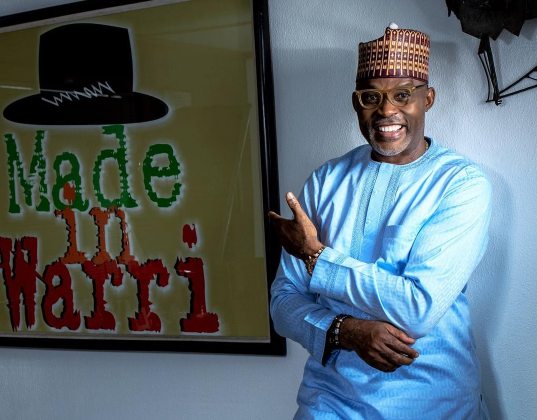 Warri born veteran actor, father and grandpa, Richard Mofe Damijo better known as RMD is a year older today.
The former Commissioner for Culture and Tourism in Delta State, who is celebrating his 56th birthday, took to his Instagram page to talk about his life experiences and the difficulties he has had to go through in order to get to where he is today.
READ ALSO: RMD Pens An Open Letter Every Father Should Write To Their Boy Child
See the post below:
Patoranking's "Nobody wey nor fit to make am o" is the apt theme song for my life as I celebrate my 56th birthday today.

From Welfare Road Warri, Delta State to the Silver Screen, it's been an often times surreal experience that anyone who has made it from a similar place of obscurity can relate to.

I believe my journey, like most journeys to greatness usually start from self belief. It's hard for me to believe I have done 34 years post graduation. There's been struggles, uncertainties, living abroad seeking greener pastures, returning home, businesses have risen, flourished and some fallen.
READ ALSO: 'You don't need a man to fulfil your dreams' Read RMD's Inspiring Message To Every Girl Child
There's been a marriage, a painful death, another blessed marriage, joyous births and more academic pursuits and degrees. There's been my sojourn in government for 8 years, the birth of my precious grandchildren and the return that was first scary till I felt the overwhelming love and support of my ever growing fan base.

What a journey. What a packed 56 years. I am indeed grateful and thankful. No, I didn't wake up like this (as RMD), No, I didn't always know that I would "make it". It's been Faith, Hard work, Self development and more work. But above all I have been more graced than my efforts could ever have done which is why in this journey, God is my ride or die and today I return all the glory to Him."
READ ALSO: "I'm not the perfect husband or father you may think I am." – RMD Reveals His Imperfections
Interestingly, one of his sons, Tega Mofe-Damijo, also took to Instagram to gush about his proud dad, calling him the best father anyone could ask for.
He shared the childhood photo below and wrote:
https://www.instagram.com/p/BWMrk2-B8hR/?taken-by=tega_the_giant
"Damn.. honestly there aren't enough words to say how much you mean to me but you're always there for me.

A lot of people may know him simply as just an actor, but to me he's so much more than that. The best damn father anyone could ask for. Like I said there's not enough words to describe the amount i love I have but I'll leave it at that. Happy birthday old man❤️@mofedamijo."
Here is wishing the cool dad a happy birthday celebration!
Photo Credit: Instagram