The Truth About Cristiano Ronaldo's Twin Revealed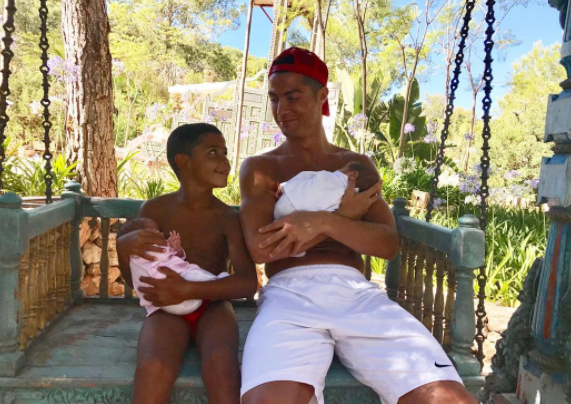 There has been endless speculation over Cristiano Ronaldo's sexuality as he is a father to three children who were allegedly born via a surrogate in California, as it is illegal in Portugal.
A few weeks ago,he welcomed  twins Mateo, and daughter, Eva again via an Instagram picture. This has aroused a lot of question surrounding the birth of his babies and who the mother is. Similar intrigue still surrounds the birth of their older brother, Cristiano Junior seven years ago.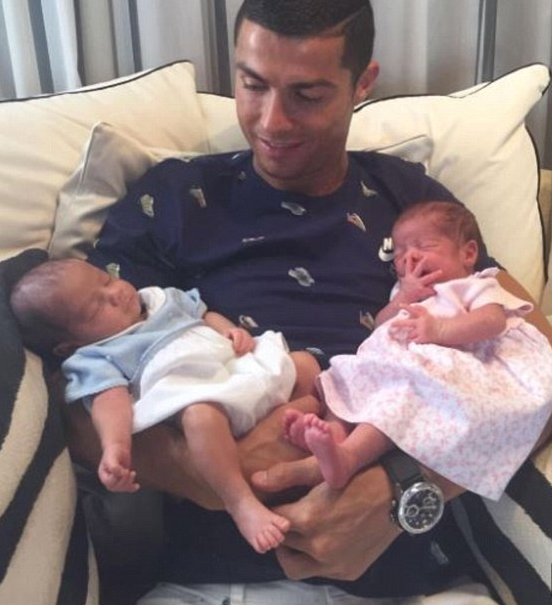 Currently in a relationship with Georgina Rodrigez who does not have a child for him is suspected to be pregnant.
READ ALSO:Cristiano Ronaldo Reportedly Expecting Baby with Girlfriend Georgina
According to DailyMail, the truth behind  Cristiano Ronaldo's twins unconventional, motherless family has been revealed
Three weeks passed before Ronaldo announced the birth of his son, Mateo, and daughter, Eva. The twins were conceived in a laboratory and born to a surrogate mother. This was ascertained from the publicly accessible case file in the Superior Court of California, San Diego, where part of Ronaldo's surname, dos Santos Aveiro, was mispelt.
READ ALSO:It's Official! Cristiano Ronaldo Confirms Birth of His Twins | Meet Them
The surrogate's name has been left blank on both birth certificates. However, Cristiano Ronaldo dos Santos Aveiro is named as the father. The birth certificates show that the twins were delivered by a local obstetrician according to Dr Maria Castillo. In California, an agency can be paid about £125,000 to supply twins — with £35,000 going to the birth mother.
Ronaldo could have chosen an egg donor (who normally receives a £6,000 fee) from hundreds of women whose photos and biographical details are advertised on agency websites. In California, a second woman is almost always hired as the surrogate who actually carries the baby, mainly because it lessens the risk that they will form an emotional attachment.
The answer to the question of where and when the babies were born lies on their birth certificates (public documents), filed using only part of Ronaldo's surname. It revealed that twins Eva Maria Dos Santos (her hitherto-unknown full name) and her brother Mateo were born at the Sharp Grossmont Hospital.
Mateo arrived first, at 9.07am; sister Eva Maria came into the world one minute later at the Sharp Grossmont Hospital.. This puts paid to another theory: that the twins might have been carried by two separate mothers.
Ronaldo's mother Dolores also revealed that she collected Cristiano Junior, the elder son whom Ronaldo plainly adores, spending hours training him to emulate his footballing feats, from a private hospital in Florida and brought him back to Spain.
According to leading California surrogacy lawyer Stephanie Caballero, this suggests Cristiano Jr may be the biological brother to the twins, and even originate from the same batch of embryos.
Photo Credit: Dailymail