Strange Woman Calls Out Designer, Toyin Lawani For Abducting Her Son, Child Star, Lord Maine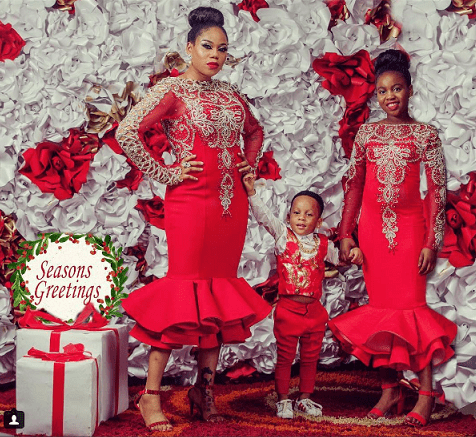 Business woman and designer, Toyin Lawani has raised alarm about an Instagram User accusing Toyin of abducting her child. The child in question is reportedly, Lord Maine.
Going by the name, Okafor Stella on Instagram, the woman claims to be the biological mother of the Payporte Child ambassador, Lord Maine. 
Toyin, owner of the Tiannah Place Empire, was involved in a romantic relationship with rapper, Lord Trigg whom she supposedly bore a son with. It is no news that the little boy is 3-year-old, Lord Mane.
In a rage, the mother of two who recently launched her reality Television show on Ebonylife TV, took to Instagram to call out the impostor and to ask people to report her account to Instagram.
According to Tiannah, initially, Stella claimed her baby was stolen inside a theatre at the National Health Service in the United Kingdom  and afterwards said her baby was stolen in Nigeria where she went on holiday. Irritated by the woman's switching claims, Tiannah lashed out at her saying Lord Mane, her son was too clean to have been born in Nigeria.
She also said she is certain the lady is a 'gold digger' who wants to reap from where she did not sow.
In Okafor Stella's words after posting a picture of the little man:
"Shameless big girl my foot. When it gets to your turn people will say why did she die , ya all see what she is doing now cause she is accident waiting to happen . One by one all of you will receive it. ANUOFIAS."
Not only did she accuse Toyin of abducting Lord Mane, she also accused Toyin's friend, a mother of 4 of abduction, referring to them as co-kidnappers.
READ ALSO:Too Cute! Toyin Lawani & Son Slay in Black at Future Awards
In another post, Stella challenges Toyin to a DNA test  the UK to prove Lord Mane's maternity. She wrote:
"@TAIWOLAWANI IF YOU KNOW THIS BOY IT'S YOURS, I CHALLENGE YOU BRING HIM TO LEWISHAM POLICE STATION WE ALL PLUS POLICE WILL GO FOR DNA , IF IT'S MINE WELL YOU FACE THE MUSIC BUT IF HE IS NOT MINE I WILL PAY YOUR TICKET AND DAMAGES. BRING IT UP NOW. Until then my boy will not be your meal tickets again. Here in London police no bribes. Judge no bribes. Justice it's served squarely. So I'm waiting . And those judging wait for the result cause if I'm right which 8 know hmm that your doors will be knocked down trust me but for now need to continue with my prayers cry if you want. ????????????????."
READ ALSO:Celebrity Stylist, Toyin Lawani, Spills on Her Battle With Fibroids While Pregnant
Stella continues:
"Make una dey see madame kidnapper child abductor @tianahplace empire so na my son you and @payporte use in feeding wait for it since police it's your boyfriend and you are untouchable wait we shall see. Soon the whole nigeria will mourn you."
Not giving up, she writes,
"IF YOU THINK BY INTIMIDATION I WILL LEAVE MY KID FOR YOU TAIWO, HMMM GIRL YOU HAVE SOMETHING ELSE COMING. IF SOMEONE TELLS ME, THAT MY CHILD IT'S HERS I WILL FOLLOW TO END TO PROVE MY INNOCENT.

BY SENDING OR USING FAKE PROFILES , TO COME MY PAGE TALK RUBBISH WILL NOT SORT IT OUT , CAUSE THIS CASE HAS GONE FAR MORE THAN NIGERIA , I HAVE GIVEN YOU OPTION COME OVER WE SORT IT OUT FAST , WE KNOW WHO IS LYING BUT KEEP RANTING.
READ ASLO:Stylist Toyin Lawani Lashes Out at Fans who Say her Daughter is Too Young for Prom
WHEN YOU ARE DONE RANTING WITH YOUR MINIONS , YOU COME WE SORT IT OUT MATURELY, BUT I'M NOT LETTING YOU USE MY BABY FOR YOUR MEAL TICKET. TRY IT COLLECT THE MONEY, YOU WILL SPEND TIMES THREE OF IT ON PROBLEMS. MTCHEEEW.

MAKING NOISE WRITING RUBBISH. NOT STELLA YOU ARE SHAKING. TRY ANOTHER. ???????????????????????? , I HAVE ALL YOUR HISTORY IN MY HAND EVERYTHING, I KNOW WHO YOU ARE BUT THIS TIME , YOU FAILED CAUSE YOU CANNOT USE MY BABY TO BALANCE YOUR ACCOUNT, BIG LIE. IT'S BETTER TO SORT IT OUT FAST NOW YOU STILL HAVE TIME. CAUSE HMMM ."
See screenshots of the whole drama below….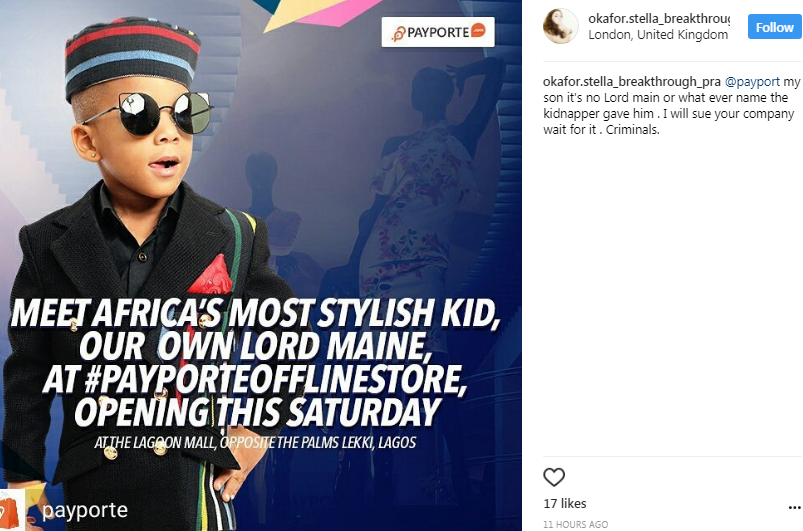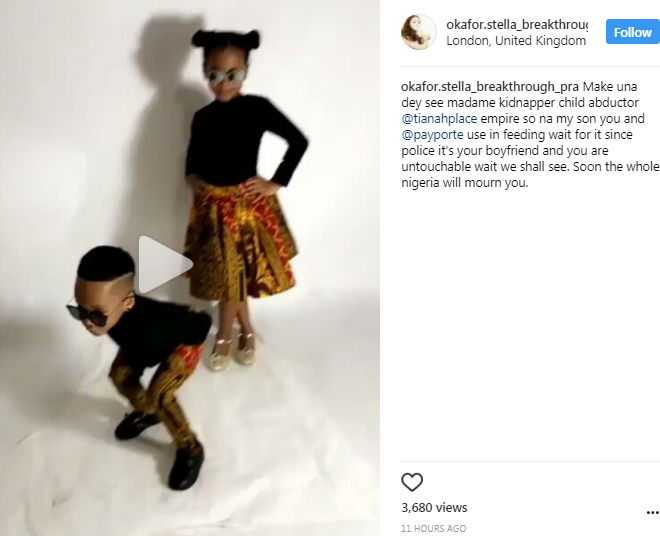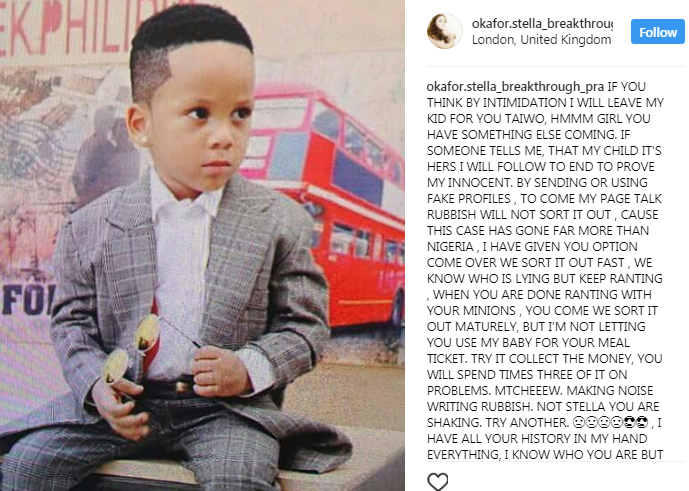 In her bid to discard Stella, Tiannah requested that her account be shut down as she is fake and goes about claiming other celebrities and children especially when they seem to be doing well. She posted a picture Lord mane and two of her friends' kids who the lady has also claimed and wrote:
"people everyone Report this page @okafor.stella_breakthrough_pra These are our kids she's claiming that they are hers cc @theunidenticalduo shawn and @lordmane2 my son @therealtoyinlawaniand i don't know who the third girl is,this joke i too expensive,pls lets put a stop to this,my son as a big day today and this asshole tried to pull this,na we far from falling back❤️⭐️????my son is destined to be great,devil you have failed,onisheruemo,trying my children pls don't wake me up,????."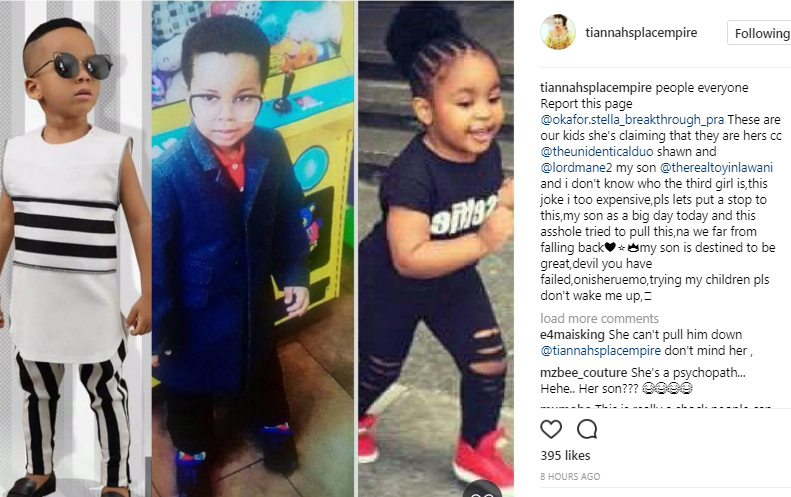 Toyin posted another picture of Okafor Stella below…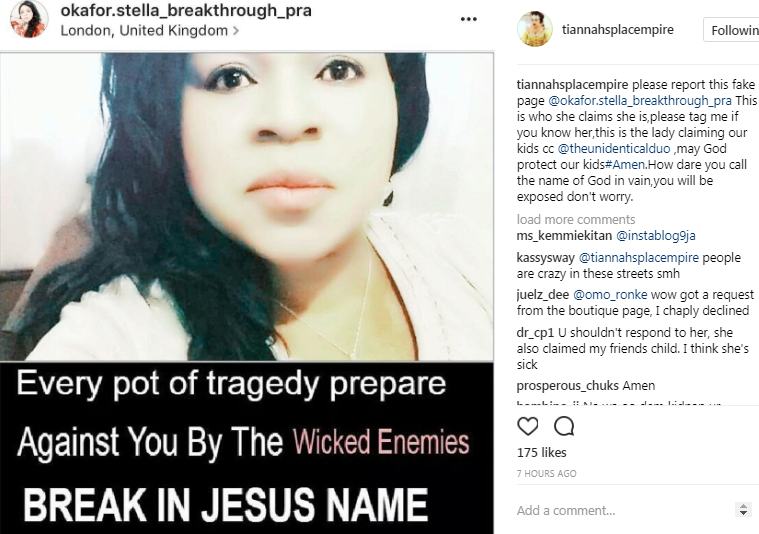 READ ALSO:Toyin Lawani Lashes Out at Haters Who Say Her Son Cannot be President Someday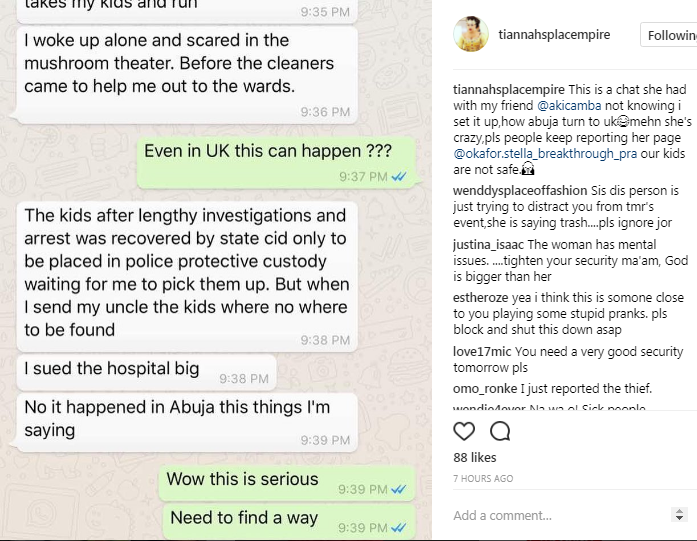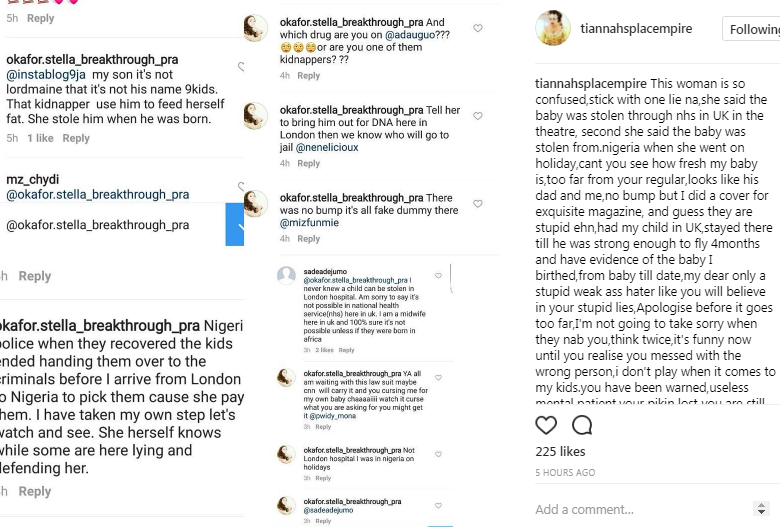 READ ALSO:Toyin Lawani's Baby Daddy, Lord Trigg, Shames 80percent of Mothers
Okafor Stella does not seem like she is about to back down easily as she still insists on her claims and allegations. No one has supported her claims yet, but we do hope this ends quickly.
Photo credit: Instagram