Drama Continues as Kemi Olunloyo Reveals Medical Status of Seyilaw's Daughter Allegedly Sourced from His Relative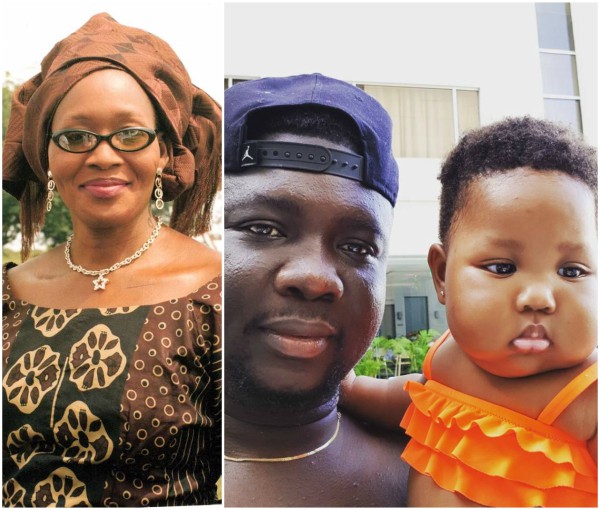 Self acclaimed journalist and daughter of former Governor of Oyo State, Kemi Omololu Olunloyo has claims to have shocking details of the health status of Seyi Law's daughter, Tiwaloluwa. 
According to Olunloyo, she received the details of Tiwa, who she said is obese, from a relative of Seyilaw's wife in the UK.
Says she was born with a disability that allows her to gain weight.
READ ALSO: "Your daughter is fat and her feeding schedule has to be guarded" – Kemi Olunloyo Insults Seyi Law | See His Response
In her new version of rant, Kemi wrote,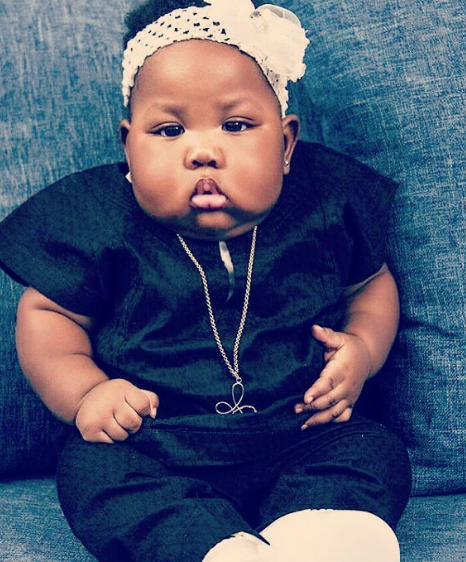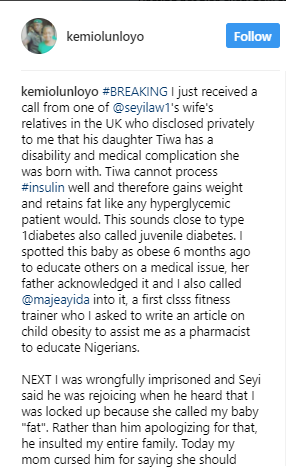 READ ALSO: "Your baby is still fat and obese" -Kemi Olunloyo Comes for Seyi Law Again!
"#BREAKING I just received a call from one of @seyilaw1's wife's relatives in the UK who disclosed privately to me that his daughter Tiwa has a disability and medical complication she was born with. Tiwa cannot process #insulin well and therefore gains weight and retains fat like any hyperglycemic patient would.

This sounds close to type 1 diabetes also called juvenile diabetes. I spotted this baby as obese 6 months ago to educate others on a medical issue, her father acknowledged it and I also called @majeayida into it, a first class fitness trainer who I asked to write an article on child obesity to assist me as a pharmacist to educate Nigerians.
READ ALSO: Kemi Olunloyo Lands in Jail for Alleged Cyber Bullying
NEXT I was wrongfully imprisoned and Seyi said he was rejoicing when he heard that I was locked up because she called my baby "fat". Rather than him apologizing for that, he insulted my entire family. Today my mom cursed him for saying she should have kept her placenta and thrown me away, called me a family reject and compared me with a dog with RABIES!None of his fans saw him do wrong, they did not research the original post and all thought this online fight was between me and Seyi. It was about the child. Instead, I got curses and death threats.

Some illiterates even thought the word "obese" was a bullying word when its actually a medical term. The other disability the child suffers is too much to say here. Pray for that girl.

Seyi, I advise you take down your child's photos from social media. To all the celebrities sarcastically cursing me out not mentioning my name, thank God u will remain scared of me forever posting her pictures and crowning her baby of the year as I made her famous in one weekend, ALWAYS FOCUS ON THE BIGGER PICTURE.

LEARN MORE ABOUT JUVENILE DIABETES. The immune system destroys cells in the pancreas. No more insulin is produced. The child becomes FAT for a lifetime #hnnhealth #tiwagate

Dr Kemi Omololu-Olunloyo Pharm.D."
Photo credit: Instagram