Why APC Youths are Calling for P-Square's Peter Arrest | Wife, Lola Omotayo Wades In
The APC led government announced a few days ago that it is set issue a ban on the producti0n of Nigerian music videos and movies outside the country. The Minister of Information, Lai Mohammed made this known on Saturday in Lagos when he paid a visit to the headquarters of the Copyright Society of Nigeria (COSON).
The minister decried the situation whereby films, reality TV shows and music were made outside Nigeria for consumption by Nigerians.
During his visit, Mohammed said:
"This government has agreed that henceforth, whatever we consume in Nigeria in terms of music and films, must be made in Nigeria. We cannot continue to go to South Africa or any other country to produce our films and then send them back to be consumed in Nigeria.

The Broadcasting Code and the Advertising Code are very clear on this. For you to classify a product as a Nigerian product, it must have a certain percentage of Nigerian content."
READ ALSO: 'I remember having you on that joyous day after 36 hours of long and hard labor' Peter Okoye And Wife To Cameron As He Turns 8
Naturally, the proposed annoying ban has however drawn a backlash from scores of entertainers who have condemned the plan. This is in view of the fact that the Federal Government has not provided an enabling environment where such videos can be shot and produced competitively on a local scale.
One of many reactions was from the P-Square brothers, Peter & Paul and their elder brother Jude Okoye who took to their respective Instagram pages to slam the proposed move by the FG.
"An industry they NEVER encouraged, supported or empowered is what they now want to control. Let all of you stop running to abroad when you are sick.

You people are the ones refusing to fix our health facilities so you travel out when mosquito bite una. So why tell us where to record when you can't provide uninterrupted power here in Nigeria," Jude wrote.
Peter, on the other hand lamented that the entertainers were the ones who redeem the country's image which is usually soiled by the politicians, whom he referred to as mad men.
He also said it is at times like this that he is ashamed of being called a Nigerian. In his words, see below…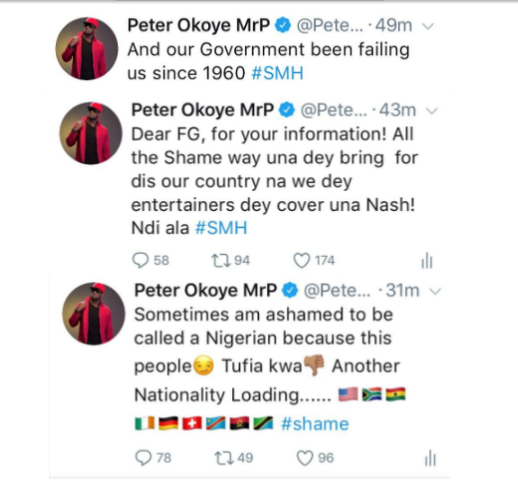 Following the call-out posts, the All Progressives Congress (APC) youth renaissance group fired a stinker at Peter for insulting the Federal government's plan.
READ ALSO: "I Feel Every Day is Father's Day" Peter Okoye Spills on Fatherhood & Bonding with his Children
In a statement signed by the group's national secretary, Collins Edwin, the APC described Peter as a 'son of darkness'.
Here's the statement;
"We read the scurrilous remarks credited to Mr Peter Okoye of the Psquare group against the Federal Government's job-saving policy in the entertainment industry with great anger and vexation.

Least of all persons to make scathing remark against the government is the Psquare group which the local content policy of the Federal Government dusted-up from the valley of obscurity.

Where was Peter Okoye or Psquare brand in 1999 when foreign music dominated our airwaves? If not for the government policy which mandated all broadcast stations in Nigeria to pay attention to Nigerian music by playing 95 percent of Nigerian songs every day, would Peter Okoye or Psquare be known to anybody in Nigeria today? Or would they have competed with better American music which dominated our airwaves then?

After the government have used its policy to brush them up from nothing to something; instead of giving opportunity to other people, they are taking Nigerian jobs to foreign countries through the shooting of music videos abroad.

Now that government have intervened to raise great and better entertainers again, Peter Okoye has the gut to insult the entire Federal Government by calling our great leaders 'Ndi Ala' which means mad and stupid people. How dare you say that Psquare?

We, therefore, urge the security agencies in the country to arrest Mr Peter Okoye for disrespecting our government and bringing it to a disrepute. If you cannot produce in Nigeria and hire Nigerians, then leave the industry.We must export Nigerian culture to the outside world through our music and videos."
As a supportive wife, Lola Omotayo -Okoye who is also against the ban took to her Instagram to share her thoughts. She reposted DJSwitch's comment on the issue and wrote;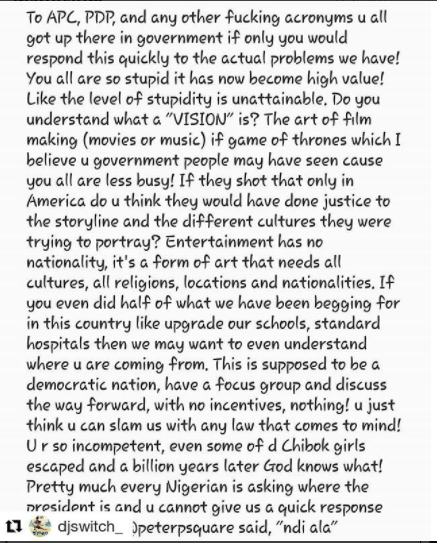 "lolaomotayo_okoye@djswitch_ thank you for voicing your opinion on this unrealistic new "ban" by FG. I am in utter shock to be honest as we have way bigger issues to focus on right now in this country of ours….all I can say is let us #clap4dem…???????????????????? let me go and sip my tea and #whine ????????????for them ojare!@peterpsquare God help Nigeria and Nigerians. We deserve better. #apc #pdp#fg #collinsedwin #channelstv #silverbirdtv#hiptv #nigerianyouth #thisdayng #nbc."

Photo credit: Instagram