Nigerian Woman Calls Out Husband's Mistress on Social Media (Pictured)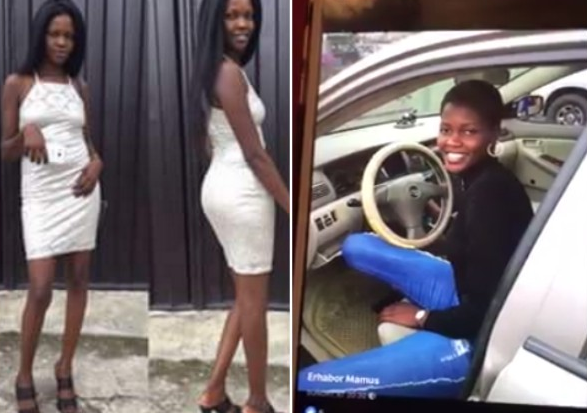 A Nigerian woman has called out her husband's alleged mistress via Facebook in a video that has gone viral. The woman whose name has not been revealed did a voice audio with her phone revealing photos of her rival on Facebook.
She mentions the other woman's name is Gift Erhabor.
According to the woman, she has been married to her husband for 15 years and he has never done things he has been doing for the girl for her and her son. The woman revealed that the husband bought her a house, car, iphone and shops for her from the UK. She also said the husband set up a business for her mother in Ghana.
In the audio she mentioned huge sums of money that her husband has deposited into Gift Erhabor's. According to her, it is a total sum of 3000 pounds and 700$. She also said her husband both a toyota car worth 2, 700, 000 naira which she celebrated the arrival on Facebook with her mother.
The woman also said her mother was encouraging her to do whatever she was doing and referred to her as a bad mother. Claiming she has heard about the girl and use of charms and visitation of herbalists, she told the girl their plans of killing her will not work. The woman said she would disgrace the girl before she disgraces her.
READ ALSO: How I Befriended My Husband's Mistress
A voice of another lady who ascertains the woman's claims and allegations towards Gift Erhabor also known as Erhabor Mamus on Facebook, is heard in the background of the audio.
READ ALSO: Wow! See How a Housewife Dealt with Her Cheating Husband's Mistress
For some people this woman's step of calling out the Gift Erhabor was rather irrelevant as they suggest that she should have called out her husband instead because he allowed such. For some others she did the right thing.
READ ALSO:Shocking! Cheating Husband Causes Outrage After Asking His Wife & Mistress to Learn How To Get Along
So far no comment has been heard from Facebook user Gift Erhabor Mamus over the allegations made against her.
Listen to audios/ watch videos below:
https://www.facebook.com/charger.song/videos/pcb.10155720150399406/10155720142964406/?type=3&theater
https://www.facebook.com/charger.song/videos/pcb.10155720150399406/10155720143009406/?type=3&theater
Photo credit: Facebook