Football Star, Cristiano Ronaldo Confirms He is Expecting his Fourth Child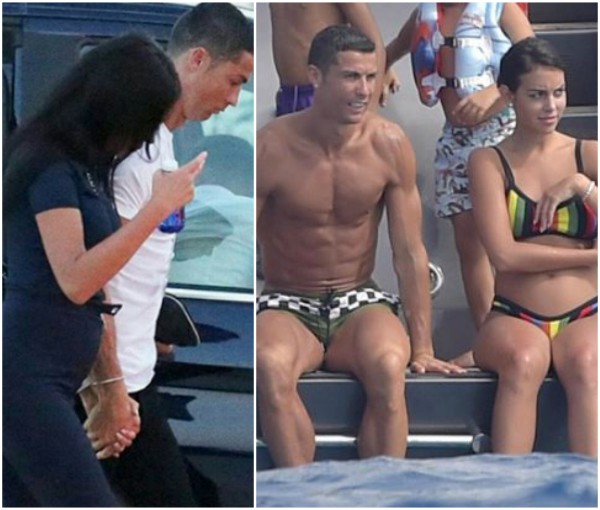 Just weeks after the birth of his twins (read here),  32-year-old Real Madrid superstar, Cristiano Ronaldo has  finally confirmed he's expecting his fourth child. This confirmation is coming after months of media speculations that his girlfriend, Georgina Rodriguez is carrying his fourth child,
His girlfriend, Rodriguez was spotted with a growing baby bump while on holiday with her man in Ibiza.
According to El Mundo, the Portuguese expecting father of four confirmed the good news in their conversation with him, Dailymail reports.
READ ALSO: Daddy Duties! Footballer Cristiano Ronaldo Pictured Helping His Son With His Home Work
El Mundo: How are your two babies like?
Cristiano: They are precious, I am delighted.
El Mundo: Do you change their diapers?
Cristiano: I'm not very good at it, but I try.
READ ALSO: Top Surgeon Blasts Cristiano Ronaldo For Birthing Twin Via Surrogate Mum
El Mundo: You look delighted.
Cristiano: Very, I'm really happy.
El Mundo: And are you happy with the one on the way?
Cristiano: Yes, very much.
Also, according to 101GreatGoals, the sweet couple are planning to tie the knot as Georgina recently started following popular Spanish wedding dress accounts on social media.
READ ALSO: The Truth About Cristiano Ronaldo's Twin Revealed
Rodriguez is carrying her first child for the footballer who already has three children from a surrogate mother.
The expecting mama, who began dating the footballer last year, is already thought to be close to Ronaldo's twins, who are his second and third children (Cristiano Jr is seven now).
He is so blessed! Congratulations to the proud dad!
Photo credit: Getty/Instagram