36 Years and Counting: Gospel Artiste, Panam Percy and Wife, Tina Tell Their Love Story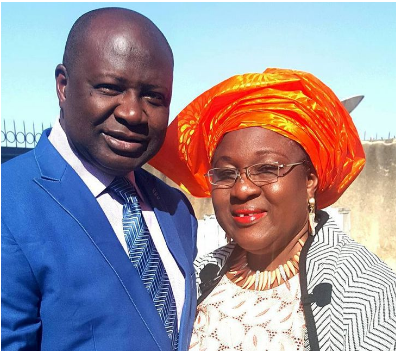 For a couple who has been married for 36 years, its worth reading their success story. Gospel musician, Panam Percy Paul and his wife, Tina Percy, share some of their marital experiences.
The Adamawa born singer got married to his wife Tina when he was 24-years-old. According to him, they had known each other for a long time before then but he never thought a romantic feeling will surface.
The parent of four children Leah, Lisa, Harley and Loraine who are also grandparents to 16 grand children have a lot to share whenever they are asked about their marriage.
In an Interview with Punch, the couple said they have been in love since 1981 and their emotions towards each other have never changed neither has their romance become sour.
SEE ALSO:
They also revealed that their family were initially skeptical that things would work between them but the older they got, the stronger they became. Tina said it was like a marriage made in heaven.
The couple, revealing more into their marital life mentioned some reasons why many marriages have crashed. Panam said a lot of people go into marriage witout knowing what the institution is about.
They told Punch that people go into marriage with individual mindsets and disposition as such there is no oneness anymore and people are no longer ready to be submissive or love unconditionally.
Panam and his wife said been open to each other and not keeping secrets in a relationship will go a long way. They said communication matters and if laid on a strong foundation strengthens a marriage. Panam said:
"We are very open with each other and keep no secrets. She has the details of my bank accounts and at some point, I handed over all the cheque books to her and she was the one handling the finances of the home.

Whenever I needed money, I would have to go through her. This was because we knew each other's strengths and weaknesses and we were able to share responsibilities."
Panam revealed that the little things done are the ones that matters, a man would wait till they have so much to buy his wife a gift but it was not to be so. He said he purchases gifts every week for Tina whenever he received any income.
READ ALSO:"You should build YOU before you ever think about building a marriage" – Majid Michel Advices
The couple said money was just a security and it plays a very important role in marriage. Tina said she would advise that men should be totally honest about their finances with their wives. Let her know what you can afford per time.
She added saying the wife should also learn to be content with whatever she gets from her husband and it would make their bond even stronger, especially when they have nothing. She said:
"I knew in my heart that if my husband has, he would give. That gave me room to pray for open doors for him and you know God answers women's prayers quickly."

Panam said Some people are brought up with the mindset that a woman is second class in a marriage; more like a slave and baby manufacturing machine that is good enough only to be sent on errands.
READ ALSO:"Don't be to quick to judge." Saint Obi Shares Valuable Advice on Marriage
But for him, this was not the case as he believed they are equal. Panam said he found out that, if you take your wife as a partner, it would make your life easier as you would complement each other to make things work well.
Panam concluded by saying that he was deliberately trained on how to be a husband and father. He was taught how to understand the thoughts and peculiarities of a woman and how to live with her.
READ ALSO:Marriage Isn't For Everyone – Actor Yomi Fabiyi Advices as He Undergoes Divorce
The gospel singer said a woman would usually not just tell you what she's thinking; you have to be intuitive to know if there is anything amiss. He adviced Parents should teach their children about family life from their own experience.
Photo credit: Punch