"President Buhari Back to Life, Walking without Support & Cracking Jokes" : Nigeria Governors' Forum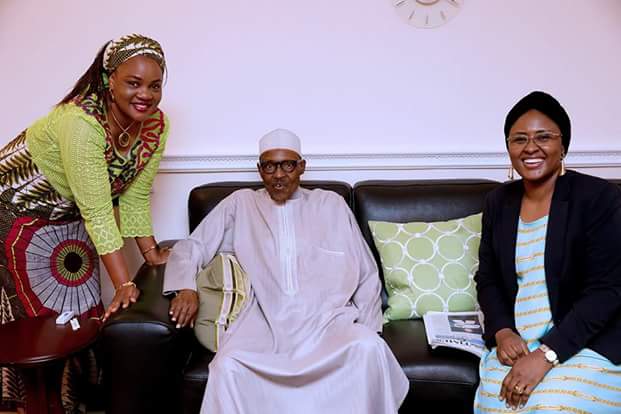 President Muhammadu Buhari, and First Lady Hajia Aisha Buhari received a selected delegation of Nigeria's Governor's Forum at the Abuja House in London yesterday. The delegation was led by it's Chairman, Governor Abdulaziz Yari. 
Benue state Governor Samuel Ortom's wife, Eunice was also in attendance.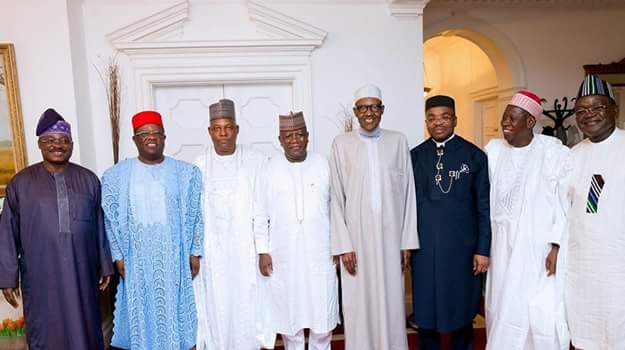 The Ebonyi State Governor Dave Umahi who was also in attendance, described the recovery of the President as "a miracle", giving reports on his health on social media.
He said the social media portrayed the President's health as "bad".
READ ALSO: What Speech Impairment? Buhari Releases Eid Message Via Voice Note + Nigerians React
The Nation reports that Umahi of the Peoples Democratic Party (PDP), spoke to NTA news after the visit of the seven governors to the President.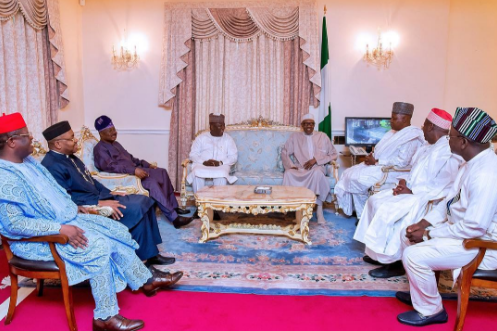 "Buhari walked without support to receive us and he took time to exchange pleasantries with each one of us. We also had a group photograph.
His voice was the usual intonation and he has no speech inhibition in whatsoever manner. He was overwhelmed by our visit. He told us that he is ready to come back to his desk once clearance is given by his doctors. We compared notes on the state of the nation and the tasks ahead.
The signs of recovery were visible but not overwhelming on him. He was looking healthier than when he came back the last time. Buhari is back to life."
READ ALSO: First Lady Aisha Buhari Gives Update on Health Status of the President
Another governor in the delegation said the President cracked jokes with the delegation without any speech inhibition while Governor, Ganduje said the President was in a good state of health,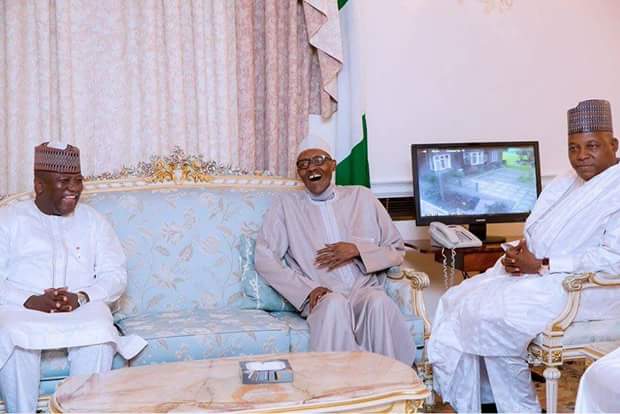 "We believe he will soon be back to Nigeria."
In a tweet under the photograph of the visit, Ajimobi said: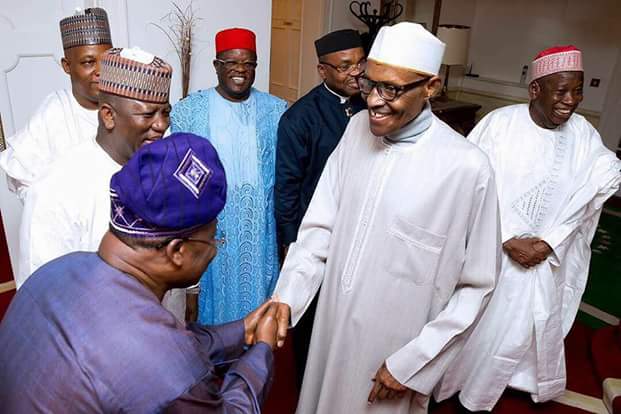 "My counterparts, the governors' forum delegation and I were warmly received by His Excellency President @MBuhari in London, United Kingdom."
Others on the team were: Abdulaziz Yari (Zamfara), Abdulahhi Ganduje (Kano), Udom Emmanuel (Akwa Ibom), Abiola Ajimobi (Oyo), Kashim Shettima (Borno) and Samuel Ortom (Benue).