For Brides Only! What Reno Omokri Thinks of Brides Showing Too Much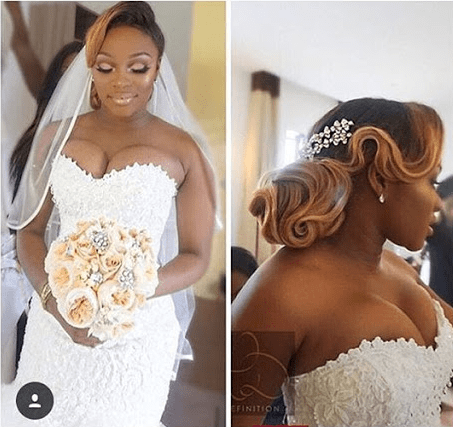 Every Bride wants to look her best on her special day. We only get to walk down the aisle once – so we wish – and so we spare nothing to look fabulous on our wedding day. Some of us go to extremes like getting surgical enhancements, paying a lot of money for a gown, anything to get a wow from our man and guests.
Research has revealed that shopping for a wedding dress is always the biggest fear of a bride-to-be. This is true as sometimes it requires the help of a mother, close friend and bridal designer.
Some brides go for the more demure look, while some go va va voom, exposing what their mama gave them.
Considering it is your big day, you alone should get to choose what would make you feel comfortable and extra-special.
But someone thinks his opinion should matter in your choice of dressing on that day. Reno Omokri does not think revealing boob wedding gowns are appropriate.
READ ALSO: Top Wedding Planner Reveals How Nigerians Spend Lavishly On Weddings In UK
The Pastor at Mind of Christ Christian Center, thinks that it is only irresponsible for a lady to expose her breast on her wedding day, and gives an assurance that it will reduce the respect your in laws have for you after that day.
He referred to brides who expose their breast in revealing wedding dresses as low-life.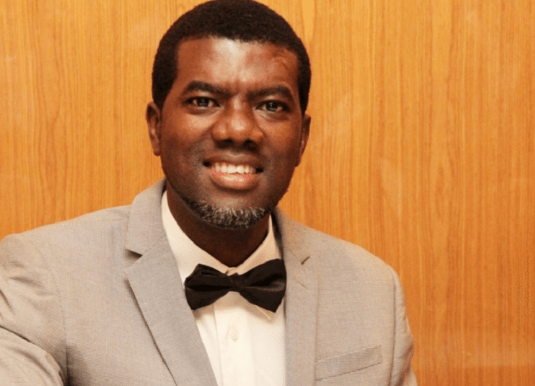 The Itsekiri born father of two boys and a girl, took to his Facebook to share his thought about brides who displays their womanly parts on their wedding day. He said:
READ ALSO:Bride drags her one-month-old baby on the train of wedding dress to the alter
"At times when I see the wedding dress some brides wear I wonder whether their mission is to marry or breastfeed their wedding guests. Not only will your family be there, but your would be in laws will be there as well. I can assure you that none of them will respect you after they have seen your breast in open display. Take sometime to look at royal weddings. Princesses don't expose their womanly parts. It is low lifes that do that. So don't be a lowlife. Cover up those breasts! #RenosNuggets."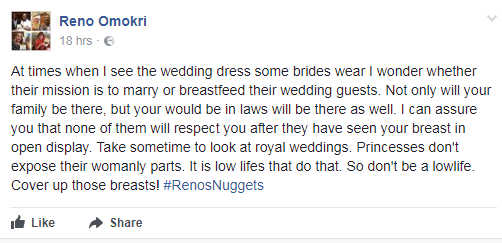 READ ALSO: 4 Most Stylish Nigerian Celebrity Brides Who Looked Absolutely Ravishing In Their Wedding Gowns
To all our lovely brides, when you decide to pick a dress for your wedding, please make the right choices not for anyone but for yourself.