Awful! Girl, 14, Obiamaka Orakwue, Raped and Killed in Her Home in Lagos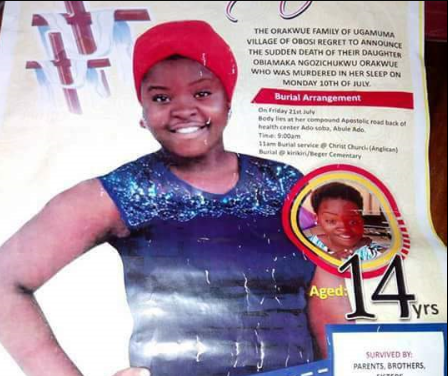 The Obituary of Miss Obiamaka Orakwue, 14, an indigene of Obosi in Anambra state who was raped and murdered at her parents home in the Abule Ado area of Lagos, has sent shock waves in the country.
According to Anambra State Online, Obiamaka was home alone on July 10th when some Indian Hemp smoking boys who had asked her out and she refused, scaled her family's compound fence and gained access to their apartment.
READ ALSO: Female Kenyan Pastor Narrates How she Was Gang-raped on her Wedding Day
https://www.facebook.com/AnambraOnline/posts/1369112409833690
They defiled her and left her in the pool of her own blood. Some residents living in the area who saw the boys as they scaled the fence out of the compound, alerted the mother of the deceased who returned home from her workplace immediately.
READ ALSO: "Sexual Education Should Be a Compulsory Subject Taught in all Schools to Reduce Rape" – WARIF
She got home to find her 14 year old daughter with blood stains on her vagina and gasping for air. She rushed her to a hospital where she was pronounced dead.
The distraught mother, Mrs Orakwue said in tears:
"I was at work when I got a call from our neighbor that they saw some boys jumping out from the fence of our compound and that my daughter was not responding to the knock on the gate since it was locked from inside. I was worried because my daughter was the only one at home and her other siblings were on holidays at my elder brothers place in Lekki. On getting to the house, I opened the gate with my spare key and dashed into the room only to find my daughter gasping for breath in the pool of her blood. I asked her what happened and all she could mutter was, "Mummy…those boys I told you about"…, According to Mrs Orakwue, her daughter had complained about some boys who had made advances towards her when she came back on holidays from school just recently but she rebuffed them and they swore to teach her a lesson. "It must have been the same boys that took advantage of the fact that i and my husband went to work and gained entry into the compound through the back fence of the house where they attacked my daughter"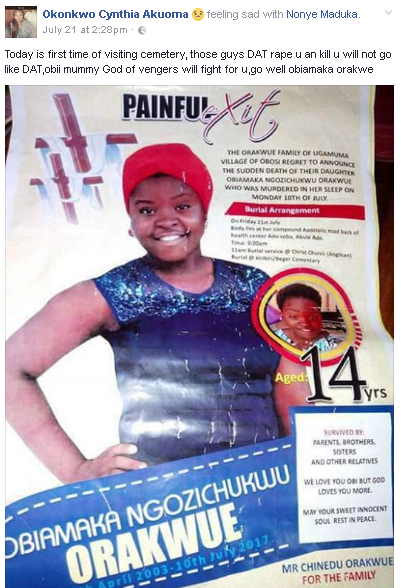 The father of the deceased Mr Obinna Orakwue who could not hide his emotions lamented that enough was not being done to find out those behind the demise of his daughter.
READ ALSO: So Tragic! 14 Year Old Girl Gang Raped & Murdered in South Africa
"We have reported the incident to the police and they promised to apprehend the culprits but we still have not heard from them till date." He described his daughter as an intelligent student with a very bright future. "She was meant to be in JSS 3 by the next academic session. We told her to join her siblings in my in-law's house but she insisted she wanted to stay at home to help with the house chores especially since I and my wife were away at work. Now see what has happened. I leave it in the hands of God to judge."
Rest in Peace Amaka!