Opa Williams' Secrets To a Long-Lasting Marriage: "The lights out, the colour of the bedsheet and …."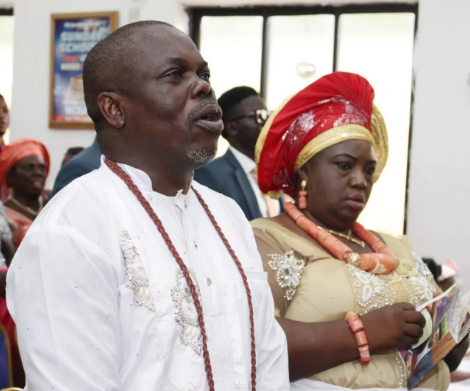 Highly celebrated comedy merchant, Opa Williams, has revealed to the secret to his successful 30-year old marriage. The duo are blessed with beautiful children.
After 30 years in marriage, the humor merchant admits that even though it was very romantic at the early stage of their marriage, over the years they have grown to see themselves as brother and sister. Opa said he feels he just met his wife, Patricia.
In an Interview with Vanguard, Opa revealed that their bedroom secrets Bedroom secret is what has taken his marriage this far. Being 30-years-old in marriage does not mean the sexual life gets boring and older, for them it only got better. He explained further:
"The lights out, the colour of the bed sheet and all of that. I'm not going to reveal that secret but it's what has kept our marriage going.
Opa said his marriage was stronger now than it was 30 years ago.  He said at the early stage, the relationship was more romantic and there was a huge expression of love. But after a while, it seemed like the bubble had burst.
In between, we had our ups and downs, and marriage, like any other relationship, is not devoid of pitfalls. At a point, you quarrel and later you settle your differences.

Then you become brother and sister with sexual opening. To me, my marriage has been peaceful all the way. Now, I know my wife and my wife knows me," he said.
READ ALSO:See Comedian Bovi's Views About Nigerian Women Who Hide their Pregnancy to Avoid Spiritual Attacks
He reveals that he is always open to his wife and they understand each other very well. Opa said many marriages fail today not because they are tired of seeing each other but at some point the man may want to go outside and experiment.
He said what they would meet outside often times causes disharmony, and material loss. He said the one inside is more peaceful and you begin to wonder whether it is worth the trouble going outside in search of emotional pleasures.
READ ALSO: Top 5 secrets to a Happy Marriage
Opa revealed that At this point, conjugal duties do not count. He said it was more of companionship, chatting and interacting with her.  He went further and said that, the fresh is not really that active again as it used to be about 30 years ago.
READ ALSO:Wife Of Ghanaian Rapper, Rap Doctor, Reveal Secrets To Their Long Lasting Marriage And You Won't Believe It
The comedian revealed that his wife has been away for some time but he has been able to cope and that has not let him to do anything that is against marriage rules. He said"
"My wife has been away in the United States for some time now. Even though I'm missing her, I'm coping well. All the years we have been together, she used to pick my phone calls, but, now, my children do that for me."