"It doesn't happen overnight . . ." Betty Irabor on Building Marital Success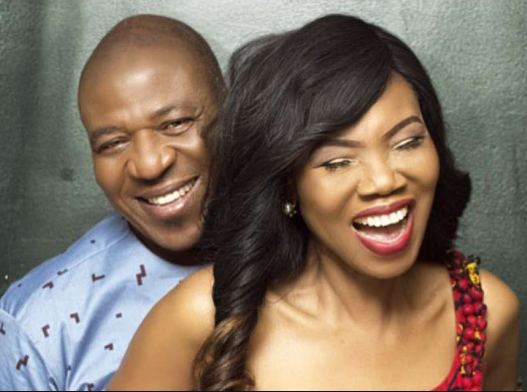 If there is anyone in the position to give marital advice, then that would definitely be Betty Irabor. The stunning mother and writer has been married to her husband, Soni Irabor for 34 years and counting.
For many youths today who are considering taking the sacred "journey to forever" called marriage, Nigerian writer and philanthropist, Betty Irabor has outlined some tips which she believes are a necessity in order to make a success out of it.
She shared the advice via Instagram as she and her husband, Media Icon, Soni recently celebrated their 34th year of a blissful marriage together. The pair surely enjoy being with each other.
READ ALSO:"Less shared, the better!" – Betty Irabor Praises Celebrities who Keep Their Affairs Private
According to her, some of the major requirements to a successful marriage are sacrifice, hard work, patience, trust and a solid foundation. She said most marriages do not last dues to ignorance to these factors above.
"What Soni and I have has taken all of 34 years to build.. So don't for one minute think it happened overnight . We have walked on that street called hope but having each other makes it bearable. A successful marriage doesn't happen over night it requires sacrifice &it takes effort & nurturing.

You want a good marriage? Work at it! Young couples seem to just want everything NOW NOW because they have to prove a point and impress their audience and in the process put a lot of pressure on their marriage. A good Marriage takes 2 , it thrives on love in action not in mere words.
READ ALSO: "I see two people who genuinely love themselves enough to love each other" – Betty Irabor Pens Moving Note to Newlyweds Yvonne Jegede & Olakunle Fawole
Marriage requires commitment, empathy , TRUST( leave each other's phones ALONE) don't marry anyone you cannot trust! Don't overburden each other with over expectations and believe me the grass is not greener on the other side; avoid comparing your marriage/partner to others that seem rosier; water your own garden! In life everything is turn by turn.

Ojukokoro is a vice that destroys relationships! If you both can't afford it then you don't need it. Let you marriage grow organically. Do everything in love..don't overburden each other with unrealistic demands. Marriage won't necessarily fix a bad relationship especially if your partner has habits that he/she won't let go.

Fix those issues before you say I DO! If he or she is violent and slaps you around now, marriage won't fix that. If he is insecure because you are a boss woman, that insecurity may linger and lead to resentment with time. Be careful who you marry..don't set yourself up because "all your friends are getting married.
READ ALSO: Soni Irabor Sends Beautiful Message of Love to His Wife Betty to Mark Her 60th Birthday
That's a trap! Don't over try to change your partner into who they are not; marriage isn't about changing your partners essence rather it is about finding the good in each other. Celebrate each bite size milestone. a successful marriage starts from the foundation. If the foundation is not built on CHRIST how can it withstand the storms ?

To my young daughters and sons out there I say , dont despise the days of humble beginnings &don't allow anyone or society force u into a marriage you're not ready for. If u marry In haste u will repent at leisure.. As for me, I believe marriage rocks ..but get ready to work it."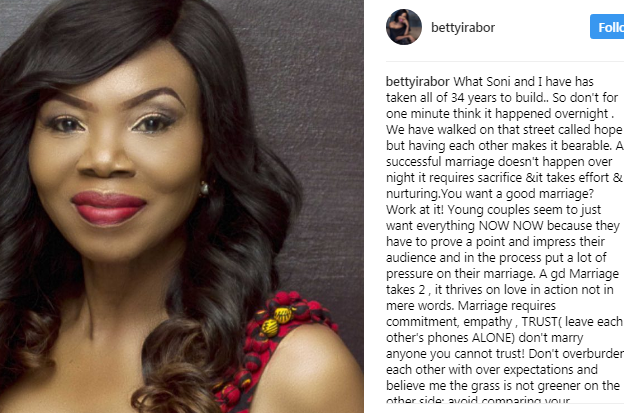 Photo credit: Instagram