Why ASUU Embarks on Indefinite Nationwide Strike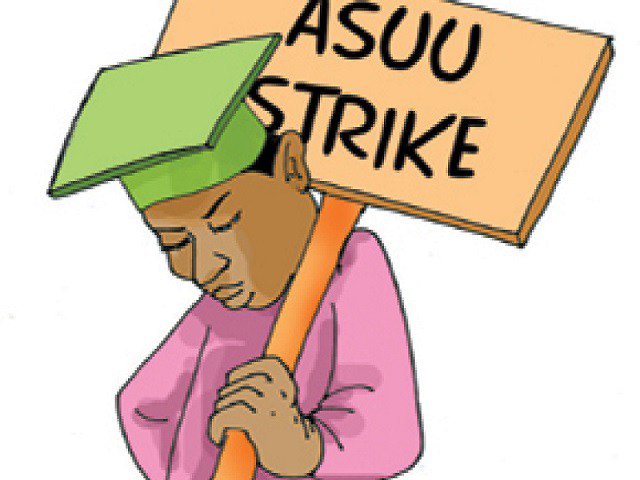 The Academic Staff Union of Universities (ASUU) has declared an indefinite strike across the nation after an extensive deliberation that lasted three days.
The union's President, Biodun Ogunyemi, declared the strike after deliberations at its National Executive Council (NEC) meeting held at the University of Abuja.
A statement signed by ASUU President said all means of negotiation had been exploited before the decision was reached, according to Premium Times.
ASUU had earlier asked its branches to conduct referendum among members on whether or not an indefinite strike should be called.
The Abuja meeting which ended in the early hours of today reviewed the overwhelming position of the branches to proceed on the strike and adopted it.
In a document titled: "Strike Bulletin No.1", which was signed and issued by the union's president, ASUU said the strike action was to be a total, comprehensive and indefinite action whereby no form of academic activities including teaching, attendance of any meeting, conduct and supervision of any examination at any level, supervision of project or thesis at any level should take place at any of the nation's universities.
Ogunyemi explained that the government has failed to fully implement the 2009 FGN-ASUU Agreement and the 2013 Memorandum of Understanding.
Also, lecturers had earlier complained of poor funding of universities, part-payment of salaries of lecturers and the kidnap of two lecturers of the University of Maiduguri by the Boko Haram.
Ogunyemi added that related demands made by the union have not been addressed, which is why they have resolved to embark on a "total, comprehensive and indefinite strike".
See a memo purportedly from the union claiming they would embark on an indefinite strike beginning Sunday, August 13, 2017.
Photo Credit: Twitter/d_problemsolver