Single Mom & Evangelist, Eucharia Anunobi Advices On Sex, Marriage and Having Kids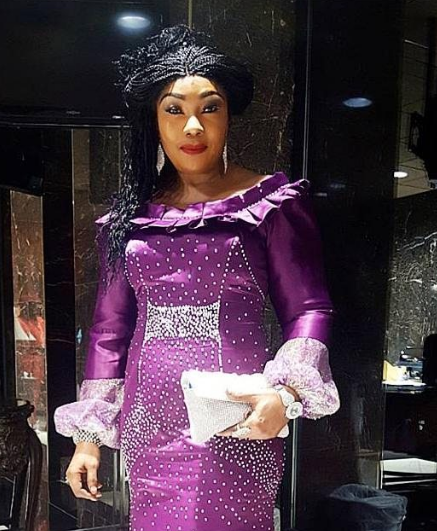 Nollywood actress turned evangelist, Eucharia Anunobi took to her social media channel to disseminate the word of God to her fans and followers. She delivered her first sermon on sex marriage and having kids for the month of August charging Christians to pray and open their inner man up so they can live a more fulfilling live.
The mother of one who divorced her estranged hubby, Charles Ekwu, in 2009 after 9 years of being married to him says if one has been in a relationship for too long and it does not seem to be working, he or she should not linger anymore and just walk away from it. Her marriage to Charles produced her only child and son, Richard Ekwu.
The 52-year-old stunning celebrity mum is of the opinion that if a man or woman feels their partner is not romantic enough, they should talk about it. She said it is better to tell your partner the truth instead of involving in illicit affairs outside marriage. She advised that you teach each them what you want and how you like it.
See what she wrote below:
"Hear this : most often we are struggling in life because we have failed to see ( spiritually blinded ) realise that our allocation may not be where we are located. If you have been working and there is nothing tangible to show for it , why are you still there? You're in a relationship for three months and you can't tell whether , it's leading to marriage , what are you waiting for ?
READ ALSO: Mixed Reactions as Meagan Good & Hubby Release New Book Advocating No Sex Before Marriage
You're in a church and you can't comfortably say , you're growing to know Jesus better , why are still there marking time? You're married and you feel your wife or husband isn't romantic , instead of complaining , call your spouse and talk things over . Teach each other what and how you like it . Instead of getting involved in illicit relationship.
READ ALSO: Opa Williams' Secrets To a Long-Lasting Marriage: "The lights out, the colour of the bedsheet and …."
So you don't have a child or children yet after years of getting married , is there anything stopping you from adopting ? Are you carrying the children to heaven ? God is not interested in how many biological children you have but in how many souls you made their lives better and told about Jesus Christ .
Hosea 4 : 6a : says my people are destroyed for lack of knowledge.
READ ALSO: Mixed Reactions as Meagan Good & Hubby Release New Book Advocating No Sex Before Marriage
I prophesy , you shall not miss your allocation this August . May the Lord uproot and place you where you should be. May your story turn around this month and may you be a show piece of God's glory. By the way , what is keeping you from giving your life to Jesus Christ ? Beloved ones , now is that time. Lots of love and peace always in Jesus name ."
Photo credit: Instagram