Is Zahra Indimi Insinuating Someone Wants to 'Eliminate' President Buhari? – Read Her Message
Zahra Buhari-Indimi, the excited daughter of President Muhammadu Buhari has taken to Instagram to rejoice over her father's return after 103 days medical vacation in London.
In her welcome back message to her dad, Zahra revealed that some people wanted to eliminate the President, but God surpassed them. She now wants Nigerians to say a prayer for them (her father's enemies).
READ ALSO: Rahma Indimi, Sends Open Welcome Note To Sister-In-Law-To-Be, Zahra Buhari
In her words;
"Welcome back Home Daddy❤️Cheers ???? (apple juice) To the strongest man I know.. Alhamdulillah.

Say a prayer for those that want to eliminate him to get their way.. God is watching. I pray that He guides us all onto the straight path. #stillstandingtall #alhamdulillah #pmb #nigeria."
READ ALSO: Zahra Buhari-Indimi Gushes: "The love my daddy has for Nigeria and her people is indescribable"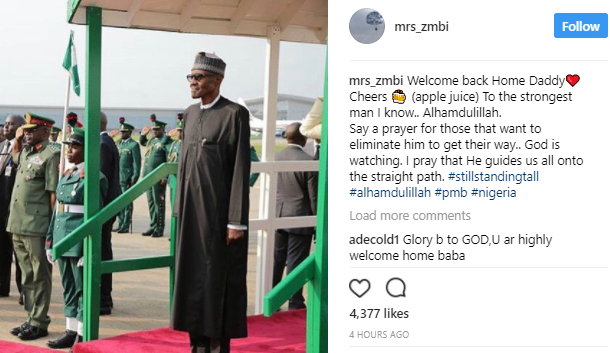 Zahra, 22, is happily married to Ahmed Indimi, the son of a multi-billionaire oil tycoon, Mohammed Indimi. The pair tied the knot in an elaborate wedding in December, 2016, in Maiduguri (read here).
Photo credit: Instagram