Aisha Buhari's Appreciation Note to Nigerians for Their Prayers and Support
President Muhammadu Buhari's wife, Aisha Buhari, took to Twitter this morning to show appreciation to Nigerians and her family's well-wishers all over the world, for their continuous prayer and support during her husbands medical vacation in London.
You will recall that the nation's president arrived Nigeria from UK where he was receiving medical attention for an undisclosed ailment, on Saturday, 19th of August, hail and healthy (read here).
READ ALSO: Aisha Buhari Off To London to Join Her Husband on His Medical Leave – PHOTOS
See her tweets below..
"As we welcome our dear President back home, I am grateful to Nigerians and well wishers all over the world for their continuous prayers and support. May God continue to guide and bless us all and our dear country Nigeria."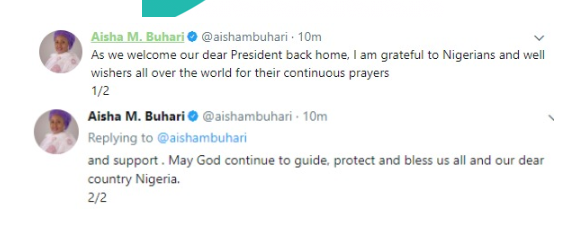 READ ALSO; Aisha Buhari Gives Important Updates about the President's Health 
Also this morning, the president gave his return speech at 7 am (local time) in a live broadcast (read here)  thanking God for returning home safely and also everyone for their prayers.
In the speech, he expressed his happiness to be back saying, 'I am so glad to be home'.
READ ALSO: Is Zahra Indimi Insinuating Someone Wants to 'Eliminate' President Buhari? – Read Her Message
"The national consensus is that, it is better to live together than to live apart. After I joined partisan politics, the late Chief Emeka Ojukwu came and stayed as my guest in my hometown Daura.

Over two days we discussed in great depth till late into the night and analysed the problems of Nigeria. We both came to the conclusion that the country must remain one and united. I am charging the security agencies not to let the successes achieved in the last 18 months be a sign to relax.
READ ALSO: Nigerian Traditional Medicine Practitioners Say They Can Heal Buhari
Terrorists and criminals must be fought and destroyed relentlessly so that the majority of us can live in peace and safety.  "Therefore we are going to reinforce and reinvigorate the fight not only against;  Elements of Boko Haram which are attempting a new series of attacks on soft targets.

Kidnappings, farmers versus herdsmen clashes, in addition to ethnic violence fuelled by political mischief makers. We shall tackle them all, he promised.
Photo credit: Twitter